故事41 | CHINA: A Place Where My Heart Dwells
作者:Fahad Javaid

翻译:潘泽彬

校对:Luz、Joanne、James
It seems impossible to sum up 9 years in a few paragraphs, but I will give it a try. My name is "Fahad Javaid" and I belong to the country of Pakistan. This fact alone gives China a special place in my heart due to brotherly ties between both nations.
9 年的时光,用几段文字概括,似乎是天方夜谭,但我仍要讲述这段故事。我叫 Fahad Javaid,来自巴基斯坦。中巴两国是"铁杆兄弟",因此中国在我心中占据了特殊的地位。
My journey started in 2013, when I was doing my bachelor's in Business Administration in Pakistan. I was a top-ranking student in my class. I was provided with the opportunity to visit China as an exchange student at Guilin University of Technology. At that time, my only exposure to China was those old traditional Chinese movies that I used to watch, and I got very fascinated with the culture.
我的中国之旅始于 2013 年,当时我正在巴基斯坦攻读工商管理学士。我在班里还算优秀,获得了去桂林理工大学交换的机会,所以我来到了中国。我经常看中国的老电影,这也是我当时唯一接触到的中国文化,它深深地吸引了我。
The first city I arrived in was Guilin. It was heaven on earth; those mountains, the cold breeze, lush green grasslands, the countryside. It was everything I loved and those five months were a blast. To learn about the culture more deeply, I always avoided the touristy places, and visited small streets, back alleys, the nooks and corners where everyday life can be seen. I got to meet many people from all around the world in Guilin and develop new friendships. 
我到达的第一个城市是桂林。桂林简直是人间天堂:山脉绵延,凉风徐徐,草原郁郁葱葱,乡村民风淳朴。这里有我热爱的一切,五个月的时光每天都充满欣喜。为了更深入地了解文化,我总是避开旅游景点,而是探访小街小巷,还有每天目之所及的角落。我在桂林认识了许多来自世界各地的人,结交了许多朋友。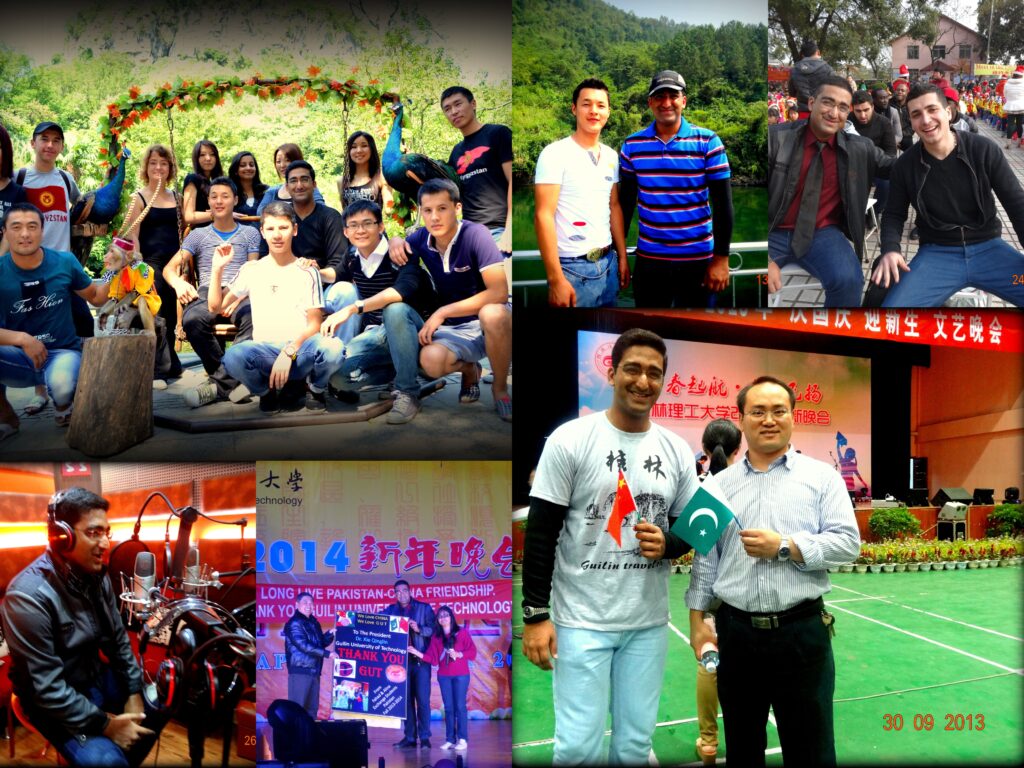 ​This experience taught me that someone speaking a different language and coming from a different culture can still connect with another person from a totally different part of the world. The way of life I saw in China, was something I always admired personally, so it was very easy for me to connect and make a lot of Chinese friends. There will always be culture shock, but I never had any issues in getting myself accommodated to Chinese culture. As a Microsoft Certified Professional, I started to help the whole dormitory with laptop repairs and Windows installation for free, and that's how I made hundreds of friends.
我在中国的经历证明,文化不同、语言不通并不是障碍,仍然可以建立亲密的关系。我非常钦佩中国人的处世之道,与他们相处非常舒服,所以我交了许多中国朋友。文化冲击固然存在,但我适应中国文化过程中没遇到任何问题。我是一名微软认证专家,免费帮舍友修理笔记本,安装 Windows 系统,结识了好几百位朋友。
I represented my country in various events in Guilin, from singing to sports, from speech contests to dancing. For me it was a once-in-a-lifetime opportunity and I wanted to make full use of it. I was also appointed to be the International Education Advisor by the University's President and helped them to market their university programs to international students. I traveled and learned about the international trade industry and how China was excelling in it day by day, and I knew that this was what I wanted to pursue in the future.
我代表巴基斯坦参加了在桂林举办的各种活动,包括唱歌、体育、演讲比赛、跳舞。这是一个千载难逢的机会,我想好好把握。桂林理工大学校长任命我为国际教育顾问,帮助他们向国际学生推介大学课程。我经常旅行,学习国际贸易的知识,了解了中国是如何在国际贸易舞台上绽放异彩的,国际贸易这是我未来想要追求的职业方向。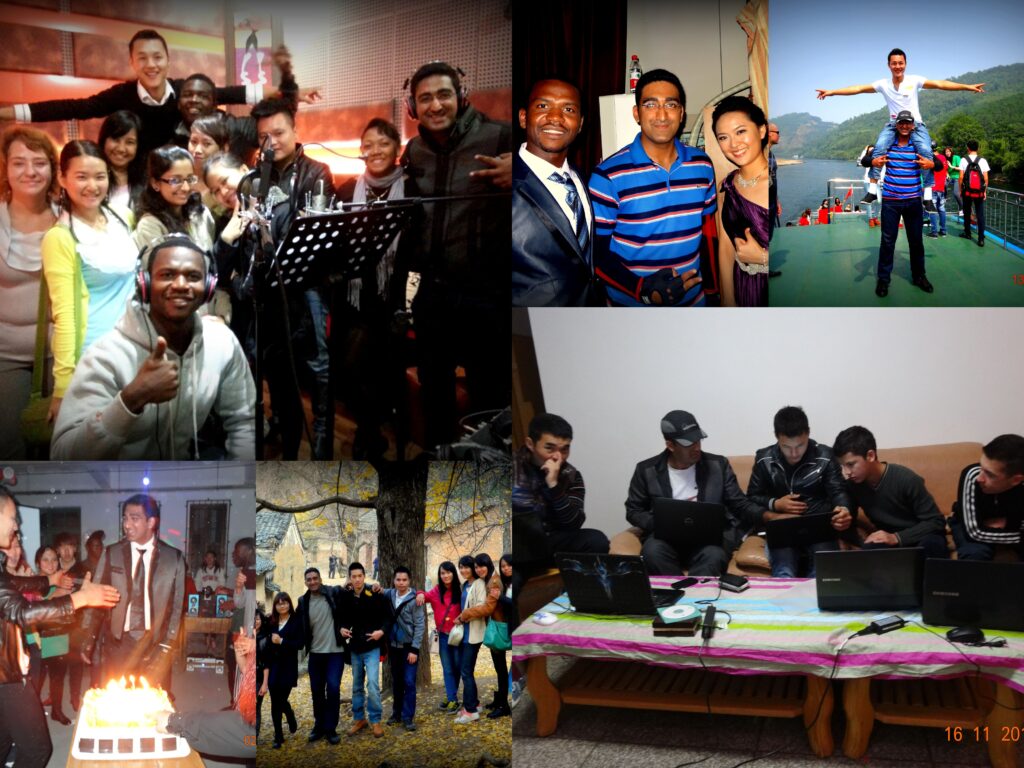 ​Those five months passed, and I had to return to Pakistan to finish my bachelor's. The last day before leaving the country, I kept wondering if I would ever be able to return.
五个月的时间转瞬即逝,我必须回到巴基斯坦完成本科学业。回国前一天,我一直思索,我是否还能回到中国。
Fast forward to 2014, I started to search for MBA (marketing) programs, and since my goal was to work in international trade, the city I selected was Guangzhou. I chose it for one sole reason: Canton Fair (the world's biggest trade fair). 
时间来到 2014 年,我开始寻找 MBA(市场营销)留学项目。我的目标是从事国际贸易领域的工作,目标城市是广州。我选择这个专业的原因只有一个:广交会(世界上最大的贸易展览会)。
I was accepted to the prestigious Jinan University, which was also visited by President Xi Jinping in 2018. My program was Sino-international MBA (SiMBA) which allowed me to learn international and Chinese business strategies with 18 other nationalities, including Chinese, in one class. This supported me in establishing my own business in the near future.
中国著名大学暨南大学录取了我,习近平主席在 2018 年曾莅临暨大。我的专业是华商 MBA(SiMBA),与来自 18 个国家(包括中国)的同学学习国内外的商业战略。这为我将来开创自己的企业奠定了基础。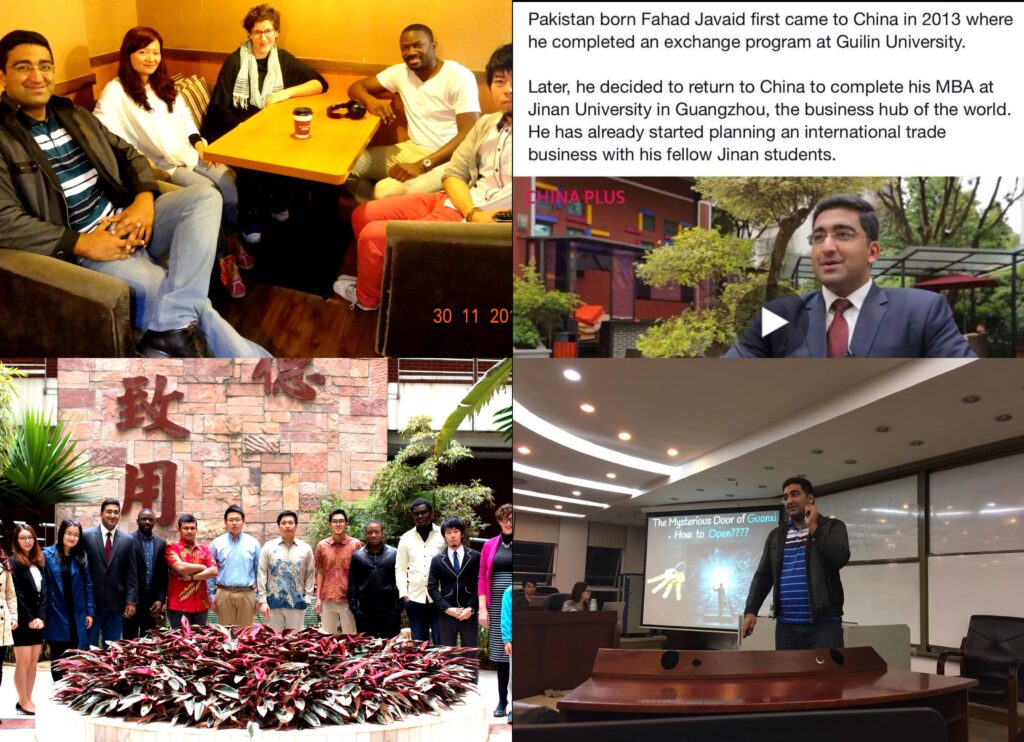 During the two years of my MBA, I was able to achieve the following:
· Became the first ever foreign Class Representative in the history of the program.
· Was awarded the first prize of scholarship in both years.
· Represented the MBA class in a New Year program and sang a Chinese song.
· Was selected by Jinan University to study in Europe on a scholarship as an exchange student.
· Was awarded the first position for thesis defenses.
· Was awarded the prestigious two-year "entrepreneurship visa" by Guangzhou immigration upon graduation.
· Shot a small documentary film on "A Foreigner's Life in China" in collaboration with "China Radio International" (CRI).
· Represented my country and introduced the culture and life of Pakistan at various forums and events.
两年的 MBA 学习生涯,我取得了以下成绩:
· 成为该项目历史上第一个外籍班级代表。
· 两年都获得了一等奖学金。
· 代表 MBA 班级参加新年活动,演唱了中国歌曲。
· 被暨南大学公派到欧洲进行交换生学习。
· 论文答辩第一名。
· 毕业时荣获广州移民局颁发的两年期"创业签证"。
· 与"中国国际广播电台"(CRI)合作,拍摄了"外国人在中国"小型记录片。
· 代表巴基斯坦参加各种论坛和活动,介绍巴基斯坦的文化和生活。
During my free time I was always visiting wholesale markets and factories in Guangdong Province. I created a database of suppliers, markets, shops, and factories, and collected data on 400 suppliers in two years. I started to provide consultancy on importing products from China to various companies globally and kept learning everything about international trade. 
空闲时间,我喜欢参观广东的批发市场和工厂。我建立了一个由供应商、市场、商店和工厂组成的数据库,在两年内收集了 400 家供应商的数据。我开始为全球各公司提供从中国进口产品的咨询,不断学习国际贸易的相关知识。
I remember those days carrying boxes loaded with products all alone in the streets of Guangzhou from markets to delivery companies. It was a dream come true, and I enjoyed every bit of it. I attended Canton Fair over ten times and traveled extensively to places like Shenzhen (the Silicon Valley of China), Yiwu (the world's largest wholesale market), and over forty other cities all around China either visiting factories and markets or traveling to relax.
那些日子里,我扛着装满产品的箱子,在广州的街道上奔走,从市场到快递公司。这是梦想照进现实的过程,我很享受路上的每一步。我参加了十多届广交会,到深圳(中国的硅谷)、义乌(世界上最大的批发市场)等地考察,参观中国四十多个城市的工厂和市场,闲暇时旅行放松。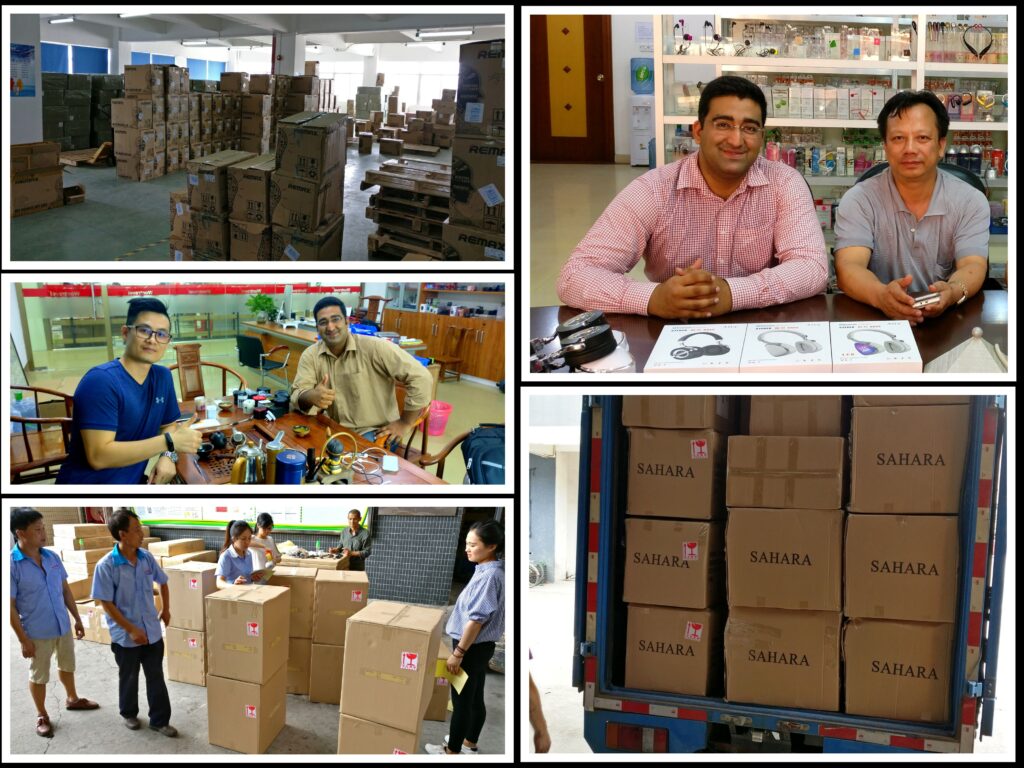 ​In Guangzhou, I joined a group called "IDEA EXCHANGE" and was a member of their organizing committee. This group introduced me to a lot of foreign friends from all around the world, and we used to have weekly events consisting of discussions on various topics. At the same time, I also started training Chinese students and adults for the IELTS exam using my experience of working with the British Council as an IELTS Brand Ambassador.
在广州,我加入了一个名为 "IDEA EXCHANGE" 的团体,成为其组织委员会的成员。这个团体让我认识了很多来自世界各地的外国朋友,我们每周都会举办各种主题的讨论会。同时,我曾担任英国文化教育协会雅思品牌大使,利用这一经验,我为中国学生和成人提供雅思考试培训服务。
I graduated in 2017 and established my own business with a small team, and started to provide various services to export products from China to wholesalers, retailers, Amazon sellers, and other online sellers all around the world.
2017 年毕业后,我带领一个小团队建立了自己的企业,提供各种服务,将产品从中国出口到世界各地的批发商、零售商、亚马逊卖家和其他网上卖家。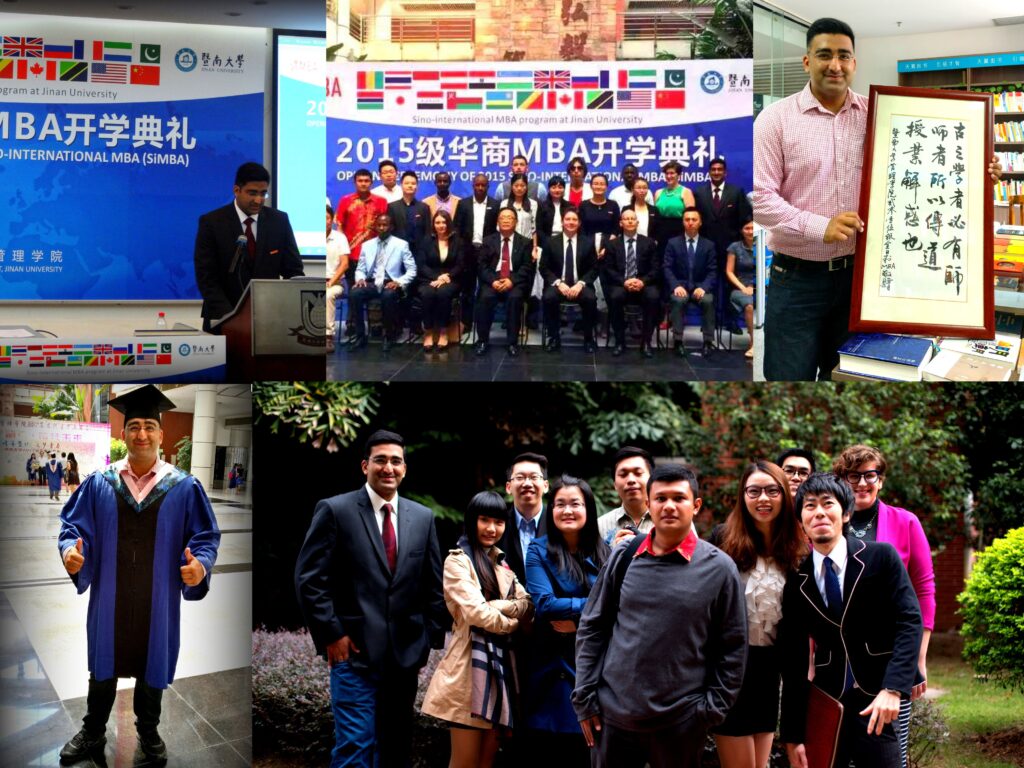 I left China in 2020 during the Chinese New Year holiday for a visit back home. Who knew that COVID-19 was right around the corner and would change the whole world? After spending a month in my home country, I decided to go back. I was lucky to enter China only three days before the government started quarantine regulations for new arrivals. This decision to come back turned out to be the best decision of my life.
2020 年春节假期,我离开中国,回国探亲。谁能预料到新冠疫情爆发,会影响整个世界?回国呆了一个月后,我决定回到中国。我很幸运,入境人员隔离政策施行的前三天,我回到了中国。这是我人生中所做的最佳决定。
I started working as a marketing manager at a company providing legal consultancy to foreigners regarding visas, company formation, etc., and carrying on with my trading business in the meantime. After a year, I decided to move on to my next goal, which was to work in a large Chinese import/export company to further extend my skills and knowledge. I have been serving here for last 2 years as Marketing Manager and Strategic Sourcing Consultant. 
我开始在一家为外国人提供签证、成立公司等方面法律咨询的公司担任市场经理,同时继续做我的国际贸易。一年后,我决定为下一个目标而努力:在一家大型中国进出口公司工作,进一步扩展我的技能和知识。过去的两年里,我一直担任市场经理和战略采购顾问。
I feel blessed to experience life in this amazing country and hope to make many more memories in the coming years.
能够在这个伟大的国家生活,我感到非常幸运,希望未来的日子能留下更多的回忆。
---
点击下方链接查看更多精彩故事