故事33|Edcia: Shenzhen never bores you
作者:Edcia Alejandra Alcocer Carpio、陈晓纯

翻译:陈晓纯

校对:Luz、Joanne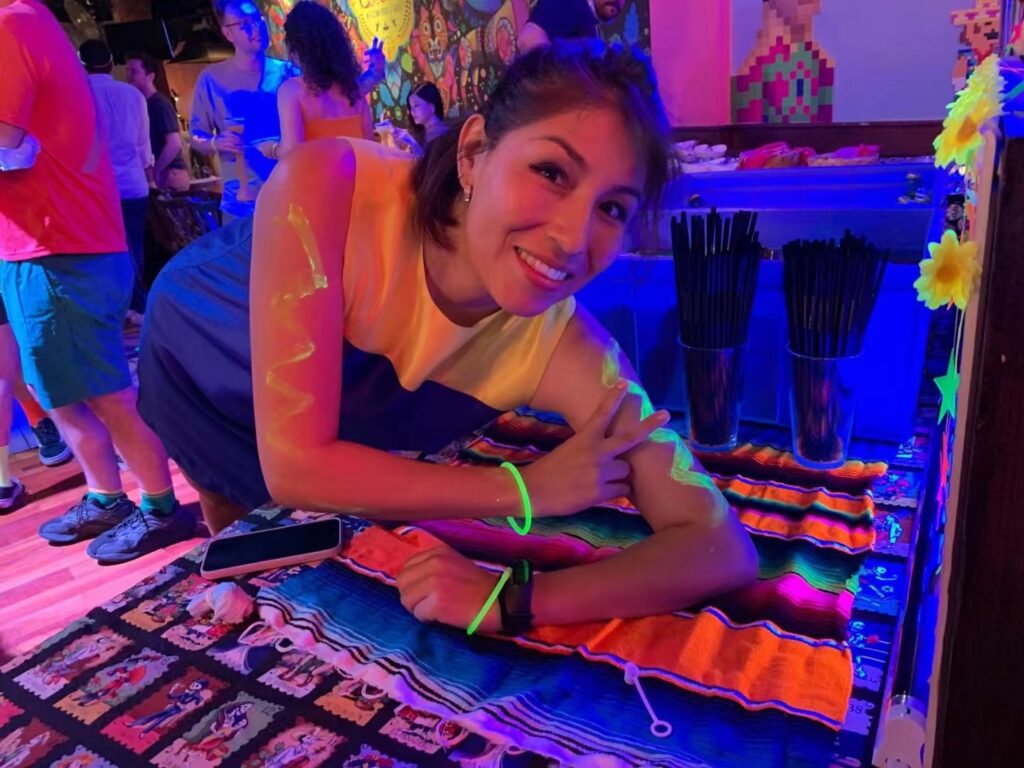 Hi there! I am Edcia Alejandra Alcocer Carpio, and I am a Spanish teacher in Shenzhen. To me, Shenzhen is a city with everything in one place, a city that has an infinite number of combinations for every taste.
大家好!我是Edcia Alejandra Alcocer Carpio。我在深圳当西班牙语教师。对我来说深圳是一座多姿多彩的城市,这里拥有无限可能。
After a long week of work, one may say: 'I feel tired of Shenzhen, I need a break,' but here we are talking about the non-stop moving of the city. You can't say there is nothing to do in Shenzhen, because there is an infinity of things available for seven days of the week, like a colorful paint palette.
忙碌完一周的工作后,有人可能会觉得:'深圳让我感到疲倦,我需要歇会喘口气。'但这座城市永不停歇,因为这里每天都有各种各样多姿多彩的活动,就像色彩缤纷的调色板。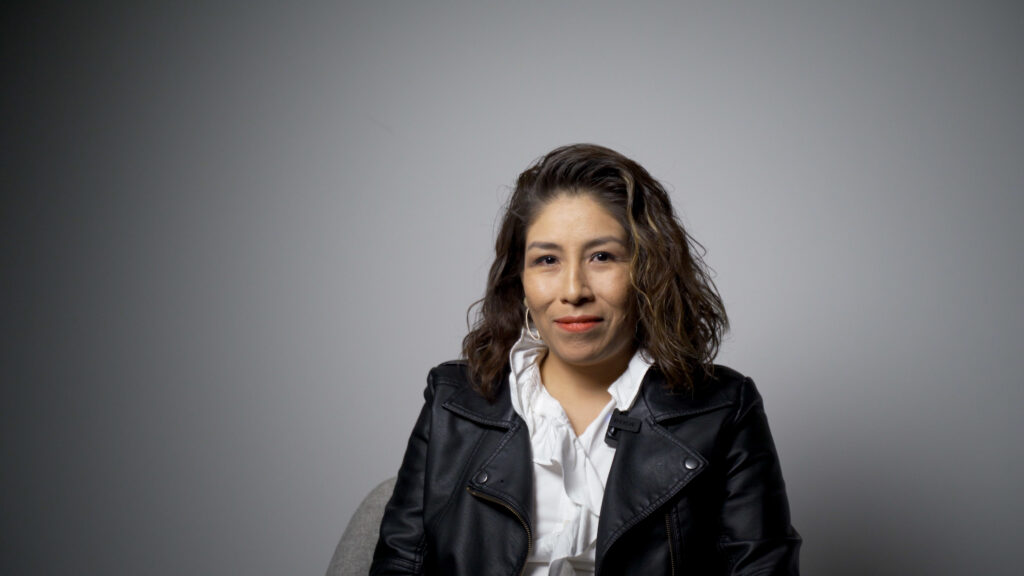 I hail from Bolivia, a country located in the heart of South America. Chinese people have impressed me a lot, because they know my country by the well-known natural tourist site, the majestic Salar de Uyuni, instead of the name of Bolivia. With my basic knowledge of Chinese, I say: bō lì wéi yà, and they don't know exactly where to locate it. However, when I say the Salar de Uyuni, they will exclaim: 'Oh yes! The salt mirror! The salt mirror!', which makes me very happy.
我来自玻利维亚,一个位于南美洲中部的国家。在中国,有一件事挺让我印象深刻的,大多数人不知道我的国家,但他们却知道乌尤尼盐湖这个有名的自然景点。当我用蹩脚的中文跟他们说玻利维亚这么名字时,他们不知道这个国家到底在哪里。但我一说乌尤尼盐湖,他们就会兴奋地说:'啊!天空之境!天空之镜!'这让我很开心。
I come from a traditional family from Cochabamba city in Bolivia. It's located in a small valley with a temperate climate in the center of the country. After graduation, I had a customer service job for an international company, a stable job that people normally take and stay with until they retire.
我来自科恰班巴市一个非常传统的家庭。这座城市位于玻利维亚中部的一个小山谷,气候温和。毕业后,我在一家跨国企业从事客户服务工作。这是一份稳定的工作,通常人们都会在这样稳定的职位上工作到退休。
I had worked in that position for around five years until 2013. Then, one morning, I was at work repeating the same routine day after day and at that moment, I saw the need to make a change, without knowing where to start or where to look at. The only thing that was clear to me was that I needed to get out of that cycle.
我在那个职位上工作了五年左右。2013年的一个早上,我在日复一日重复的工作中例行公事,我觉得我需要做出改变,虽然我不知道从何下手,也不知道望向何处,但我知道我需要跳出这个循环。
After looking for options and talking to many people, I knew that at that time many people in were coming to China to do business and they were doing well in general. So, I decided to come and try my luck.
在找寻了各种工作,以及跟很多人交流后,我了解到,当时,有很多玻利维亚人来中国做生意,做得还不错,所以我决定来中国试试。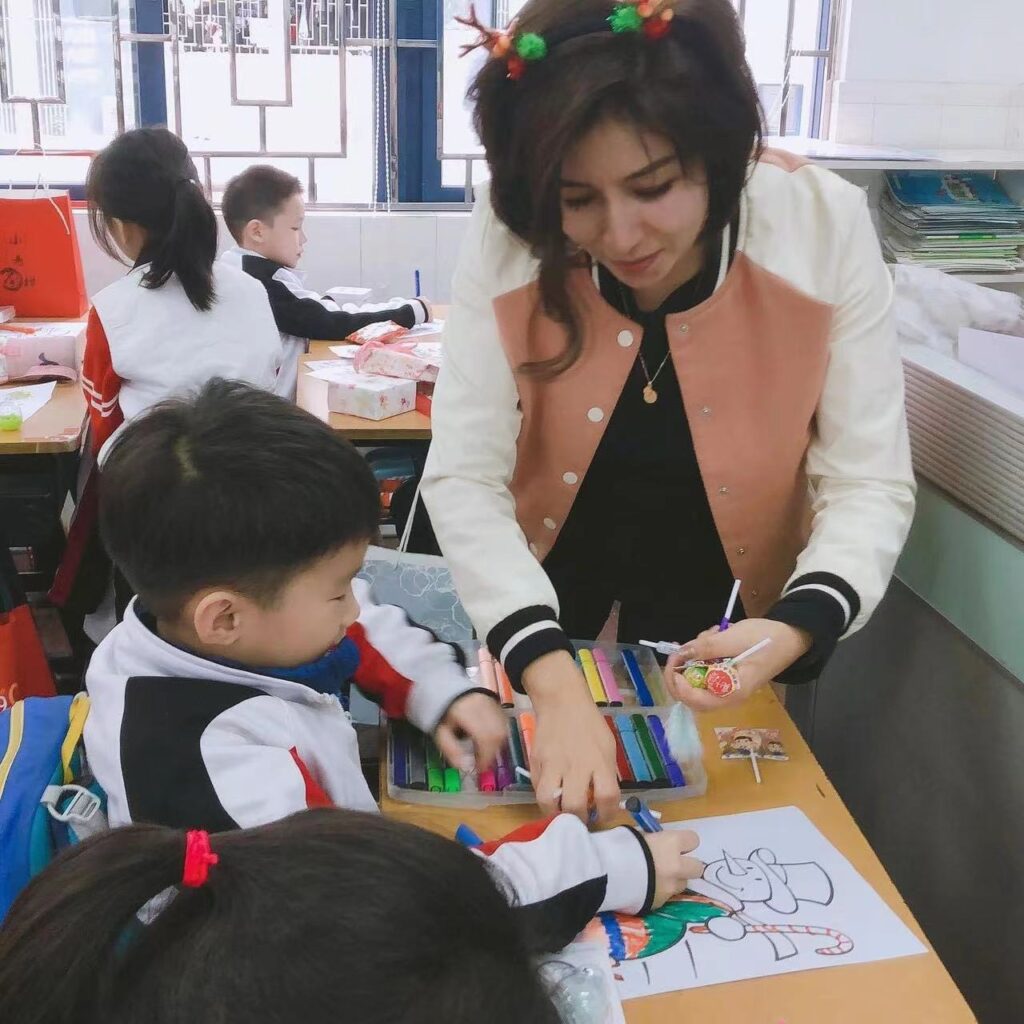 I came to Shenzhen directly in 2013. When I set foot in Shenzhen, after a short stay in Hong Kong, I was impressed by the technology, and how new and clean Shenzhen was, although Shenzhen in 2013 was not as developed as it is now.
2013年我来到了深圳。在香港短暂停留后,我踏上了深圳的土地。深圳向我打开了它的大门,虽然2013年的深圳并不像现在这样发达,但是这里的高科技、干净崭新的一切都深深地印在了我的脑海。
I stayed here for several months, visiting different places and researching business themes. But in the end, I didn't do business. "I didn't have enough knowledge so I didn't want to take the risk.
我在这里呆了几个月,参观了不同的地方,调查了做生意相关的事项。但最后,我还是没有做生意。我没有足够的相关知识储备,所以我不想冒这个险。
Eventually, I moved to the city in August 2019 for a Spanish teaching job and have stayed ever since.
最终在2019年8月,我决定定居深圳,从事西班牙语教学,并一直待到现在。
For me, accepting the job and coming to Shenzhen was like a call from destiny.
对我来说,接受这份工作并来到深圳就像命运的安排一样。
Working with primary school kids has helped me a lot because they give me that sincere human warmth with a smile, a hug, showing their affection for me and making the lack of family love and care more bearable.
我的工作是跟小学生打交道,这对我来说有很大帮助,因为孩子们真诚的微笑和温暖的拥抱让我感受到了他们的爱,这大大缓解了我对家人的想念。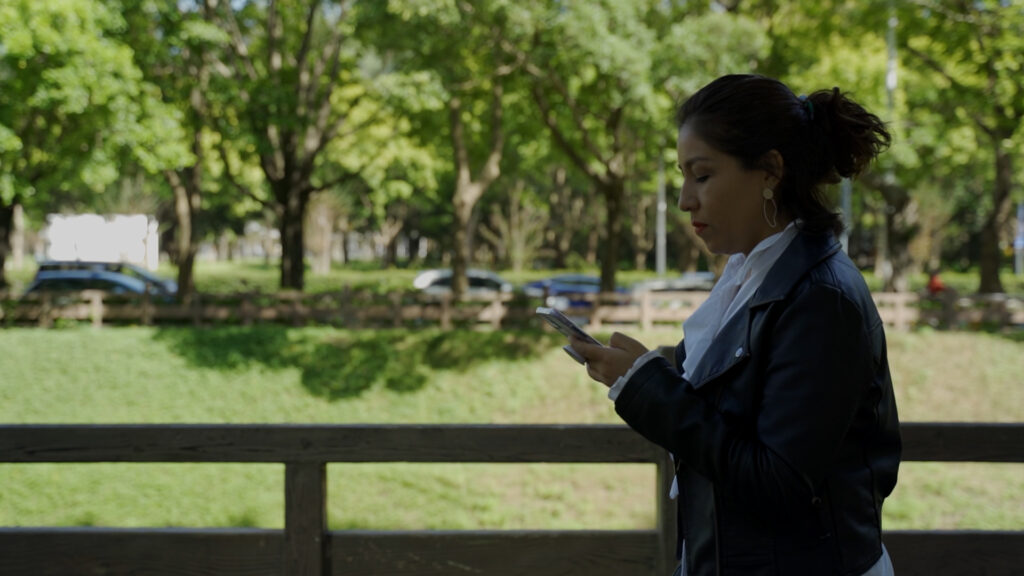 The first time I came to China, I was talking on the phone and heard someone running from behind. My first Latin instinct was to clutch my cell phone with all my strength against my body, because we learn to react in this way in South America, or in my country. I mean, we grab the phone tightly if someone suddenly runs nearby, because we feel like they are going to steal it. The security in China has been one of the nicest things.
我刚来中国时,有一次用手机接电话,然后听到有人在后面跑。作为一个拉美人,我的第一反应是用尽力气抓紧手机并藏到胸前,因为在南美,在我们的国家,在这种情况下我们是这样子反应的。如果有人跑到旁边,我们会紧紧抓住手机,因为我们会觉得手机很可能会被抢。在中国一切都很安全,这是我最喜欢的一个方面。
Living in China has really changed my perspective. In school, or the general knowledge we had about China, was the capital Beijing; the famous pandas; people grow rice; they wear the big harvest hats. And we didn't know more. The reforms of Deng Xiaoping without doubt opened and changed China totally.
在中国生活后,我的观点发生了很大变化。在学校里,或者说我们对中国的认识,基本上就是首都北京;大熊猫;中国人种植水稻;农民戴很大的帽子。其他的事情我们完全不了解。毫无疑问,邓小平带领下的改革开放彻彻底底改变了中国。
What it said in the textbook and what I encountered in China were totally different. And I said: "God, this isn't what I was told! This wasn't in the book".
当我来到这里,我发现一切跟我们书本里写的完全不同。我对自己说:"我的天!这跟我认知中的中国不一样。"你看到全然不同的景象。
I love living in Shenzhen very much. There are very nice contrasts in Shenzhen. It's a very diverse and dynamic city. Shenzhen is very advanced in terms of technology. Everywhere you go is clean, everything is new. At every moment you find new renovations and new constructions. At the same time, there are also places with nature where you can spend a tranquil weekend. You don't have to travel several hours to enjoy hiking or a picnic. Everything is accessible.
我非常喜欢居住在深圳。深圳有非常棒的反差。它既是一座充满活力的多元城市。也是一座发达的科技之城,这里一切都很干净、很新,每天你都会发现新事物、新建筑,这里也有很多自然美景,你不用坐好几个小时的车去徒步、去野餐,一切都很方便。
Now, I am very good at using Chinese apps such as Taobao and Meituan, Now, I'm more Chinese than most Chinese in using these applications and finding promotions!
现在,我能非常熟练地使用美团、淘宝等应用程序。现在,在使用app和寻找优惠活动方面,我比大多数中国人更加像中国人。我搜索并找到了一切,我也加了好几个文娱活动和体育活动的群。
---
点击下方链接查看更多精彩故事