故事23 | Vika: Dating China
作者:Viktoria Radnaeva

翻译:潘泽彬、Luz

校对:Zuzana、Joanne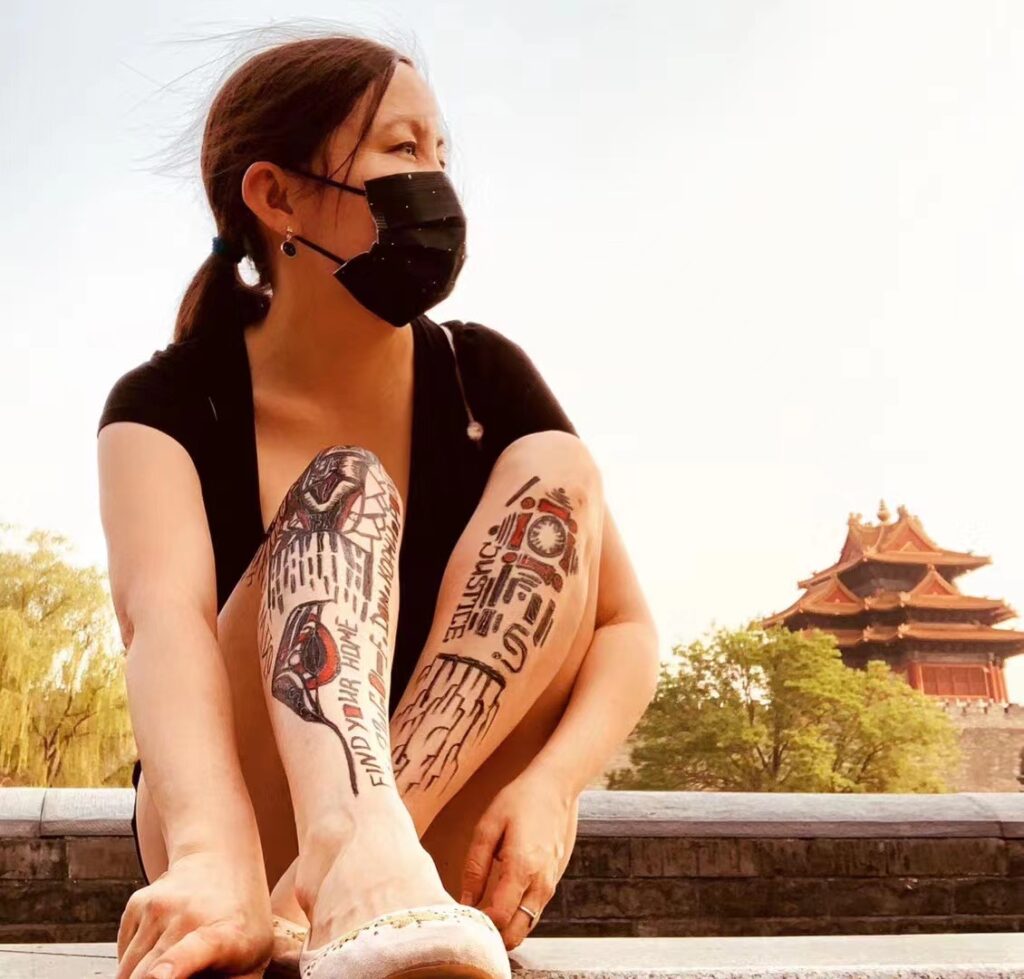 ​My name is Viktoria and I was born in Siberia, Russia. I am an artist, writer and journalist. I have lived in Wuhan for the past 1.5 years and am currently finishing a master's course in art and design at Wuhan.
我叫 Viktoria(维卡),出生于俄罗斯西伯利亚。我是一名艺术家、作家和记者,在武汉生活了一年半,目前在武汉攻读艺术设计硕士。
I have spent in China 11 years now with all the "come-and-go". I have many friends already married to Chinese people and raising mixed kids, living in an international society in China. Some of them used to move inside this "bubble" circle of expat's life. They used to buy imported goods, eat in western restaurants, and spend time outside of the Chinese language environment.
来去之间,我已经在中国度过了 11 年的光景。我有很多朋友在中国结婚,生了混血娃娃,居住在由外国人组成的社区。他们习惯在外国人的"圈子"里活动,习惯购买进口商品,在西餐厅吃饭,在华语圈外消遣。
But for me, the real ingredient of living in China includes the one I face on the streets. Talking with locals, listening to what bothers them or makes them simply happy. I am quite new in Wuhan and before moving here, I haven't done a lot of research. Yeah, this city now attracts the attention of people from over the world. "Wow, is it safe there? How do people move, act, breath, eat, etc". To be honest just her majesty Destiny brought me here. I came to study art and design.
但对我来说,在中国生活的真正意涵是面对街上的一切:与当地人交流,倾听他们的烦恼或者小确幸。搬到武汉之前,没有做太多研究,因此对武汉还很陌生。没错,如今的武汉成为了全世界的焦点。"哇,武汉安全吗?人们怎么出行?怎么办事?怎么呼吸?怎么吃饭?等等"。说实话,是命运女神将我带到了这里。我是来学习艺术设计的。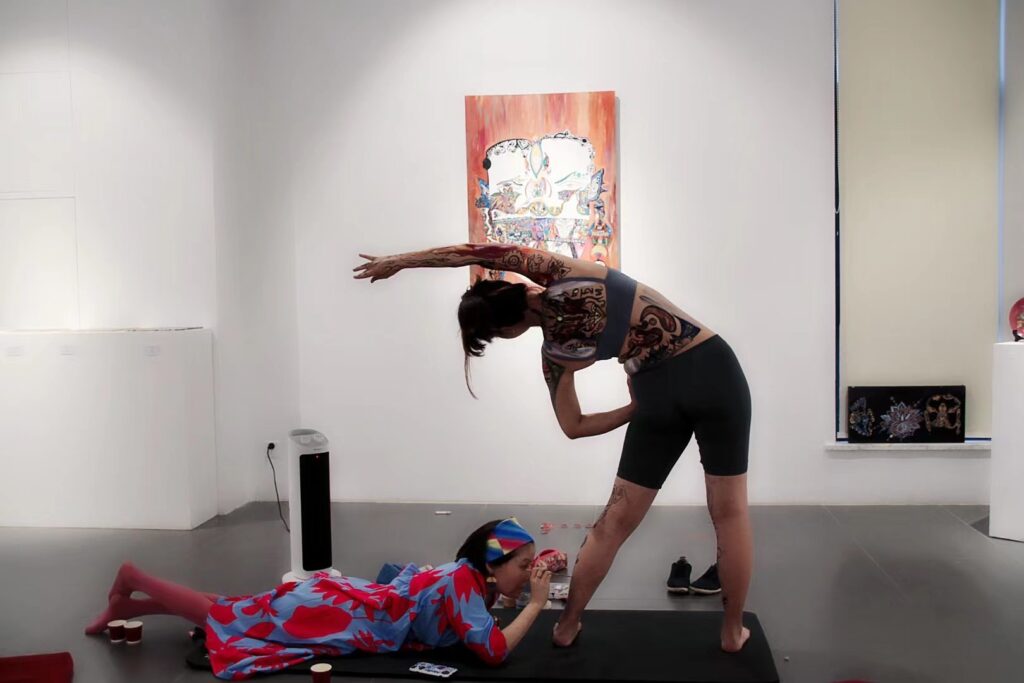 I have spent like 2 months altogether under the sky of Wuhan. 58 days full of cloudy and rainy weather. Drops of rain were falling on my days and nights since the first day of arrival. 98 percent of Wuhan is connected with water energy. To be honest it brings somehow inconvenience while exploring but I prefer to keep moving. I just bought more waterproof clothes.
我在武汉呆了两个月,58 天都是阴雨连绵。到武汉第一天起,雨就没日没夜地下。武汉 98%的地方都与水有关。说实话,这给旅游带来了一些不便,但我会继续前进。我买了许多防水面料制成的衣服。
Wuhan is a beautiful city. Here you can find more than hundreds of lakes. It has a subtropical climate and is surrounded by palm trees. Now it's time for sakura blooming. Tiny streets in the Hankou district with colonial buildings. Abandoned buildings just next to the East lake. I love moving inside those places with the shadows of the past. Getting the feeling of physical existence in someone else's life. I feel fulfilled bringing myself inside those half-destroyed rooms, flights of stairs. It's like opening the chapters of an ancient story full of broken details: used napkins, dirty underwear, and socks, pinky bed-set with holes. I was sitting on the edge of what was so-called "window frame" and felt like I was filming here before. Maybe it wasn't exactly this place, maybe some other urban or rural location in China.
武汉是一座美丽的城市,有数百个湖泊,属于亚热带气候,棕榈环绕,现在正是樱花盛开的季节。汉口区的小街上矗立着殖民时期的建筑,废弃建筑列于东湖湖畔。我喜欢游览经过岁月洗礼的地方,体味别人的生活,获得最真实的感受。进入那些残破的房间和楼层,我感到满满的成就感。这就像打开一个古老故事的章节,里面充满了破碎的细节:用过的餐巾纸、肮脏的内衣和袜子,有破洞的粉色床套。我坐在"窗台"的边缘,感觉我曾在这里拍过戏。也许不是这个地方,而是中国的其他城市或农村的某个地方。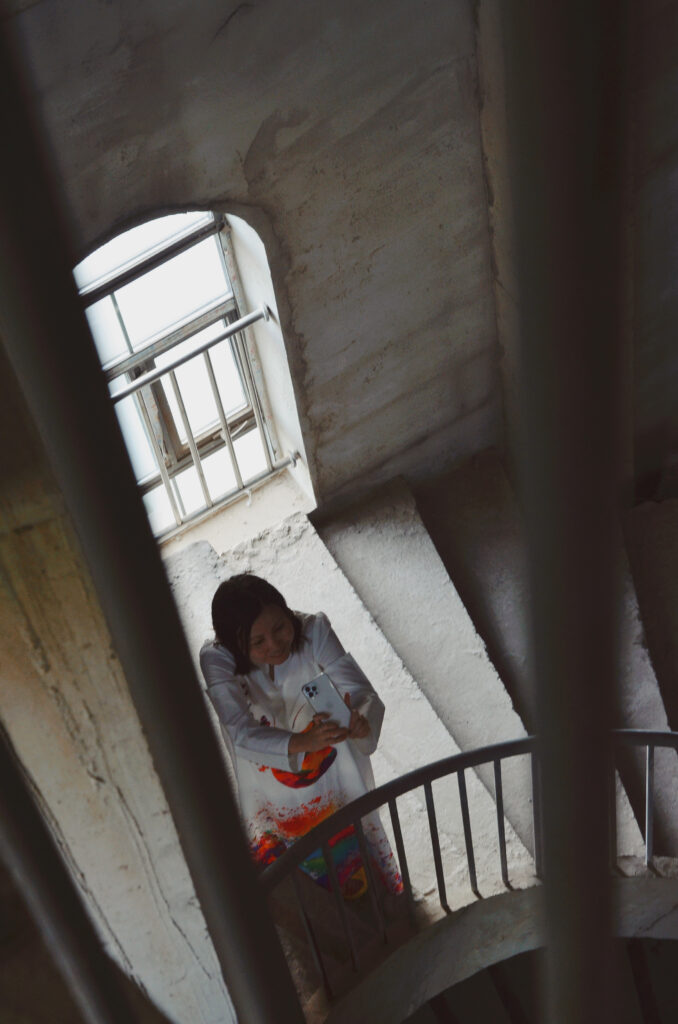 I love to paint and film. If I were able to create the body of Wuhan I would like to keep those old charming houses, and narrow streets just next to Changjiang bridge. If I were able to hug Wuhan as a human, I would love to hug people around me. Street sellers on the markets of Hanzheng street or the old woman who were selling handmade noodles. For me the city is not just a space with metal constructions, roads, and multiply layers of buildings. For me, city is the human who smiles, cries, and shows me lots of emotions.
我喜欢绘画和电影。如果我有机会规划武汉的主体,我希望保留那些迷人的老房子,以及紧挨着长江大桥的小街。如果我能够拥抱武汉,我会拥抱周围的人:汉正街市场上的小贩以及卖手工面的老太太。对我来说,城市不仅仅是一个由钢铁、街道和高楼组成的空间,而是一个笑着、哭着、拥有复杂情感的人。
" You didn't try 热干面? Vika, it's like you haven't been kissed by Wuhan's 口! Wait, I will bring you the bowl of famous Wuhanese noodles!"

"How does the surface crust of Wuhan taste?"

"你没有尝试过热干面?维卡,这就像你没被武汉亲吻过一样!等等,我请你吃武汉特有的面条!"

"这就是武汉的味道,怎么样?"

"Slowly getting some appetite for you, Mr. Wuhan. Might be multilayered and not easy to scratch its surface".

"我慢慢感受到你的美味了,武汉。你的美味可能是多层次的,不容易一下就品尝出来"
"I am slowly opening the curtains waiting for another rainy day. Suddenly rays of sun hugged me. I am quickly going down to the street. Holding a cup of my favorite latte. Coming down on the crossroads in the direction of Nanhu lake. A man in his 50's is repairing shoes. Next to him, a vintage bicycle with the box of tools. He is smiling and singing a song about "The father mountain and The river mother".
我慢慢拉开窗帘,等待下一个雨天。突然,阳光拥抱了我。我拿着一杯我最爱的拿铁,快步来到街上,走过南湖方向的十字路口。一个 50 多岁的中年男人正在修鞋,旁边停着一辆老式自行车,放着一箱工具。他面带笑容,唱着一首关于"父亲山母亲河"的歌。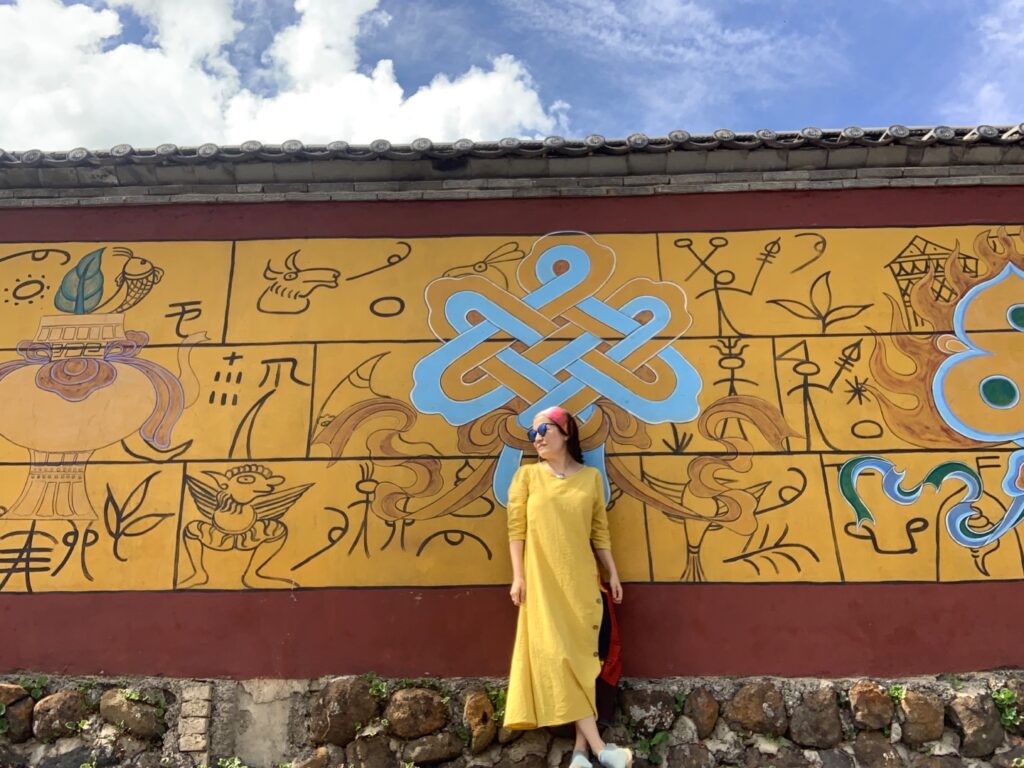 "How long you have been working here?"

"你在这里干多久了?"

"20 years.  It's my space, I have my old customers coming here to have their shoes fixed or talk to me. My wife is an accountant at the university. My son works for an IT company.  Where are you from? Xinjiang? Your accent sounds like you are from Xinjiang!"

"20 年。这是我的天地,老顾客会来这里找我修鞋或者聊天。我妻子在一所大学做会计,儿子在一家 IT 公司工作。你是哪里人?新疆吗?你的口音听起来像新疆人!"

"I am from Russia, Siberia. I am a student here. New in Wuhan."

"我来自俄罗斯西伯利亚,是一名学生。刚来武汉。"

"Wow! You look Chinese. Are you married? My son is not married yet. We have 2 apartments in this new building!"

"哇!你看起来像中国人。你结婚了吗?我儿子还没有结婚。这栋新盖的楼盘里,有两套房是我们的!"

"I am not married yet. I am still studying and busy with my projects. Why you are so direct with this question?"

"我还没有结婚,还在读书,忙着做项目。为什么会这么直接地问我的婚姻状况?"

"It's a common question. I am a father and I am worried about my kid still single. Can I introduce you to my son? He is a good-looking and successful person. How much do Russian women need for the bride price? How much do we need to pay your family?"

"这是一个很平常的问题。我是一个父亲,儿子还是单身,我整天为这事发愁。我能把你介绍给我儿子吗?他长相英俊,事业有成。俄罗斯结婚需要多少彩礼?我们需要给你家多少钱?"

"Uhhh! Is it true? I have heard about this tradition and even my friends were supposed to pay some bride fee to enter the family!"

"啊!真的吗?我听说过这个传统,我的朋友也需要付彩礼才能成家!"

"Yeah, the minimum we have to pay is 100 000 RMB for a bride. We are still working hard to find a decent bride for our son. Don't worry, you will feel welcomed into our family!"

"是的,娶新娘的最低彩礼是 10 万元。我们还在努力为儿子找一个合适的新娘。别担心,我们一定会热烈欢迎你嫁到我们家的!"
The practice of settling marriage through a "bride price" to be paid by the Chinese groom has grown to incredible proportions in recent years, especially in the rural areas of China. In my opinion, this practice is not doing women's push for gender equality any favor. For example, the Chinese population has over 30 million more men than women, it's also the number of Chinese men who will not be able to find women to marry unless they look abroad. Let's see how my relations with Wuhan will develop and if I will get married in China sometime. For now, I am just dating the city itself and falling in love.
近年来,新郎通过支付"彩礼"来解决婚姻大事,这种形式已达到惊人的比例,尤其是在中国的农村地区。在我看来,这种做法不利于女性争取性别平等。例如,中国男性人口比女性人口多出 3000 多万,这些中国男性不得不找外国媳妇。我和武汉的关系会如何发展,我是否会在中国结婚,拭目以待吧。现在,我只想和武汉约会,爱上这座城市。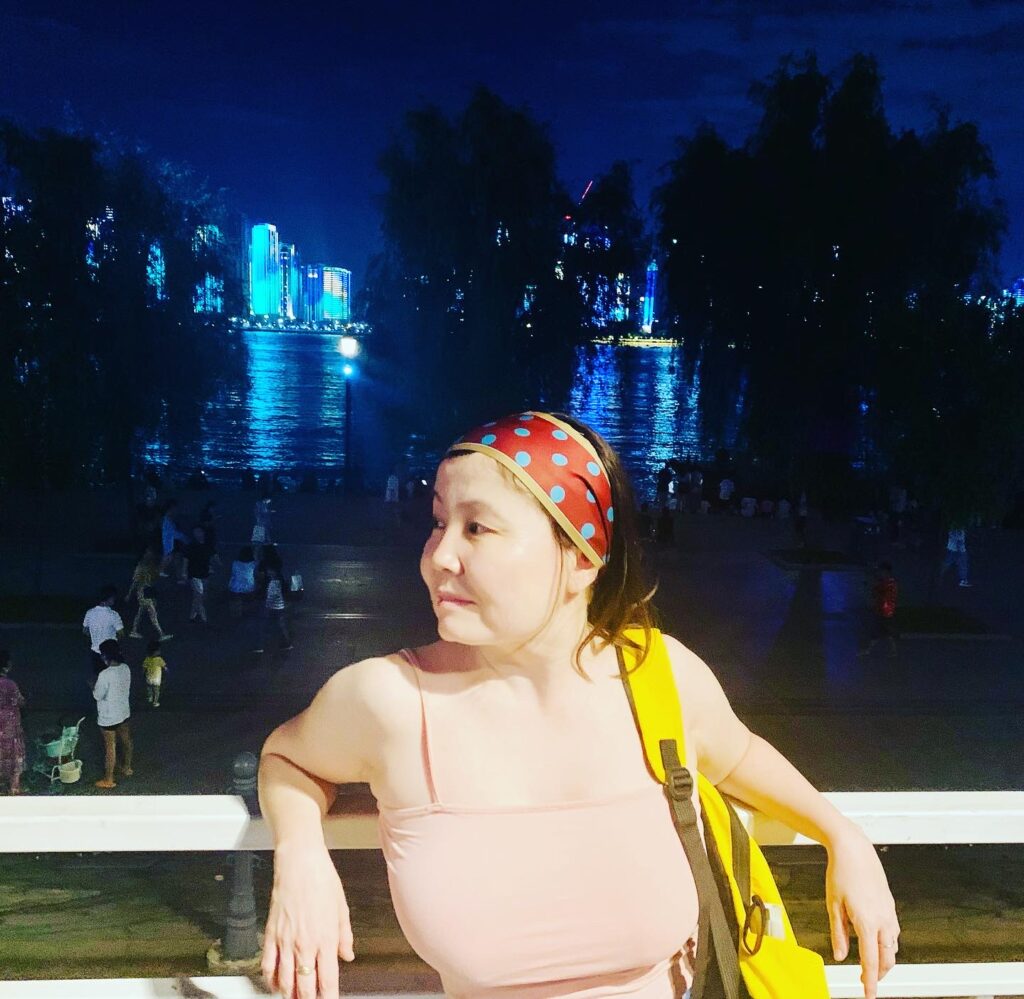 I was born in Siberia, Russia next to the world's biggest lake Baikal. Russia is a multinational country with 180 ethnicities. It's a very diverse, unique, and multicultural place expanding from the west to the east, from the north to the south in 11 time zones. Russia is a mix of European and Asian subcultures with the same pronunciation of the state Russian language by all ethnicities. As the destiny being born close to China, I choose to follow my oriental path. Life these days is so unpredictable and the most important thing is to keep being Human and interacting in this international society. Both in physical, and mental directions.
我出生在俄罗斯的西伯利亚,附近就是世界上最大湖泊——贝加尔湖。俄罗斯是一个多民族国家,拥有 180 个民族,文化多元且独特,从西到东,从北到南,跨越 11 个时区。俄罗斯文化融合了欧洲和亚洲的亚文化,所有民族的官方语言都是俄语,发音相同。因为我的家乡在中国附近,所以我选择了东方道路。现在的生活是充满未知,最重要的是与国际社会互动,保持人性。身心都要朝着正确的方向发展。
My dream in China is to live in the fast-changing, expatriate-friendly, fast-developing reality where we all can go more deeply by scratching layer by layer and bringing more positive vibes into our life here.
我的中国梦是生活在一个日新月异、对外国人友好、快速发展的世界中,我们可以一层一层地深入感受周遭,把更多积极的氛围带入生活。
---
点击下方链接查看更多精彩故事