故事2 | Melody:The fabulous "sweet" destiny
作者:Melody Pace

翻译:Ouattara Nanfro (fr_en)、何羽婷(fr_zh)

校对:Luz、Joanne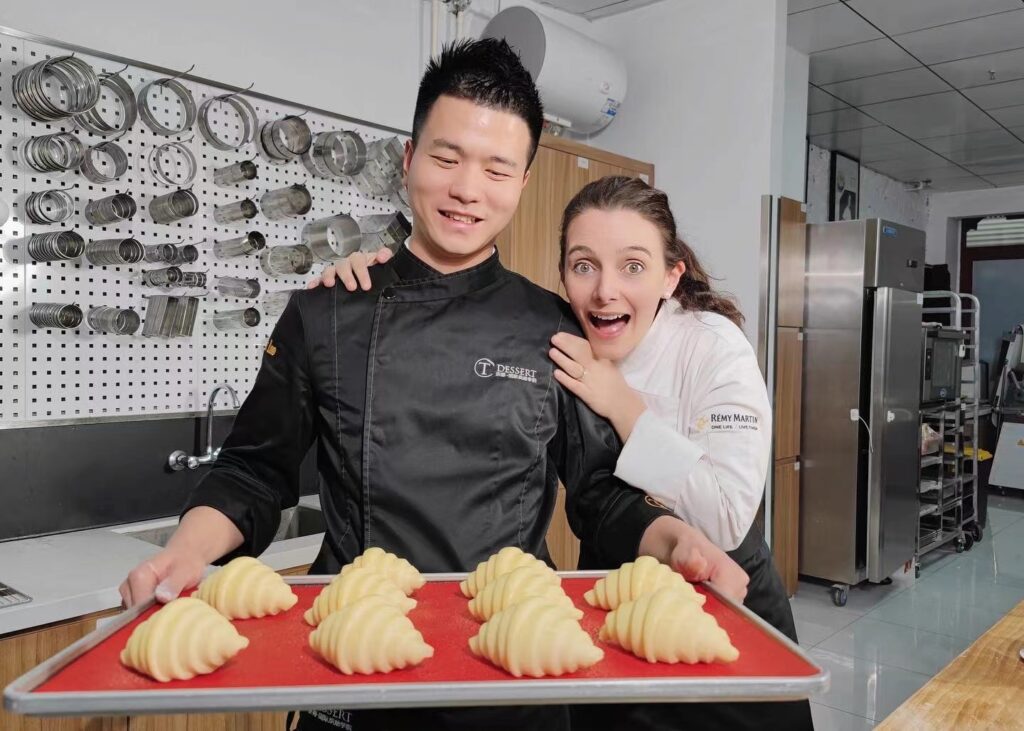 I have always been fascinated by China, the country of the panda, since I was a little girl! A fascinating and intriguing country at the same time. Flashback to when I was getting ready to join a new school, I heard about a high school where Chinese was taught, something rather rare for the year 2003 in France. For me it was obvious, for my family and friends not so… "Chinese? Is that a joke?" or "But it's impossible to learn this language" were their main reactions.
从很小的时候起,我一直为中国所着迷,那可是大熊猫的国度! 这是一个既迷人又让人好奇的国家。回顾当初入学准备的阶段,我听说有一家高中有教授中文,这对于2003年的法国来说还是一件稀罕事。对我而言,我的选择显而易见,然而对于我的家人和朋友来说有点勉强…… 大部分人的反应:"中文?你在开玩笑吧?"或者,更有甚者:"中文不可能拿来当语言学习"。
Strangely enough, these kinds of remarks had the opposite effect on me and I was more than motivated to start this adventure. Very quickly I made great progress and I went for the first time to China at the age of 16. This trip only confirmed my love for this country.
说来奇怪,这类言论对我具有反作用,我更加积极地投入到这项冒险之中。很快,我取得了很大的进步,在十六岁的时候我首次出发踏足中国,这趟旅程坚定了我对这片土地的热爱。
All along my journey I jumped on every opportunity that came my way to understand this culture better, to learn even more, and to have the chance to go to China for the longest time.
在旅程当中,我抓住眼前的一切机会,以便更加了解中国文化,更加深入学习,并且尽可能抓住机会,以便有更多时间前往中国访问。
So at the age of 19 I decided to go and teach French in Nanjing for 2 years… .I can still see the skepticism in my family's eyes but they finally accepted my choice.
于是,在十九岁的那一年,我决定前往南京教授法语两年……我依然从我家人眼里读懂了他们的不理解,但是他们最终还是接受了我的选择。
A year at Suzhou University also allowed me to discover this beautiful city and its friendly people.
然后在苏州大学的一年里,我得以发现这座优美的城市以及它的热情的居民。
Back in France, I continued my studies, finished my master's degree in Chinese and I only thought of one thing, to return to China. My family and friends were no longer surprised.
回到法国,我继续我的学业,获授中文硕士,我只想做一件事,就是再出发到中国。我的家人和朋友现在已不再讶异了。
2013, contract signed with a French company, here I was as a Brand Ambassador based in China, Shanghai. This is how I started my new life. Gourmet that I am, what a chance I have to represent the Gastronomy department of my company. (Chance or danger to keep fit … !)
2013年,我和一家法国企业签署了合同,然后我成为了他们中国上海公司的品牌的形象大使。我就这样开始了新的生活。作为一个爱好美食者,代表公司美食部门向大家介绍美食,于我而言是个绝佳机会。(对于体重来说既是机遇又是风险…… ! )
So I started to make my first business trips all over China, I organized events by inviting French chefs, and I understood little by little the market. This job is perfect for me, thanks to my passion for China and gastronomy. This allows me to understand this country even better and to discover new regions. Each region has its own customs, its own specialties, I love the feeling of always learning more about this country.
我开始在中国全境开展首轮商业旅行,我邀请法国大厨和组织各类活动,逐渐理解了市场。这个工作很适合我,对中国和美食的热爱在我心中交织着。这使我更加理解这个国家,并发现探索新的地域。每个地域都有自己的风俗和特色,我喜欢不断了解这个国家的感觉。
Changsha, October 2015, we invited a French chef to do a training for our customers. There were a lot of people at this event but among this crowd I could only see him! I met this talented chef who quickly became my client and eventually my husband. It turned out that he loves France very much, what he loves most of all is French pastry. Since he was a little boy, he helped his parents in their pastry shop and quickly made it his passion. He shared with me his ambitions, his dreams "One day I will open my own pastry shop that will have your name on it!"
2015年10月,长沙。我们邀请了一名法国大厨来为我们的客户提供培训。活动当中,人头攒动,但我在人群中只看到了他! 我遇见了一位有才华的大厨,他迅即成为我的客户,并成为我的丈夫。他十分喜爱法国,最喜欢法式甜点。从很小的时候,他就在自家的法式甜品店帮忙,做甜品很快地成为了他的爱好。他同我分享他的雄心和梦想:"总有一天,我会以你之名,开一家甜品店!"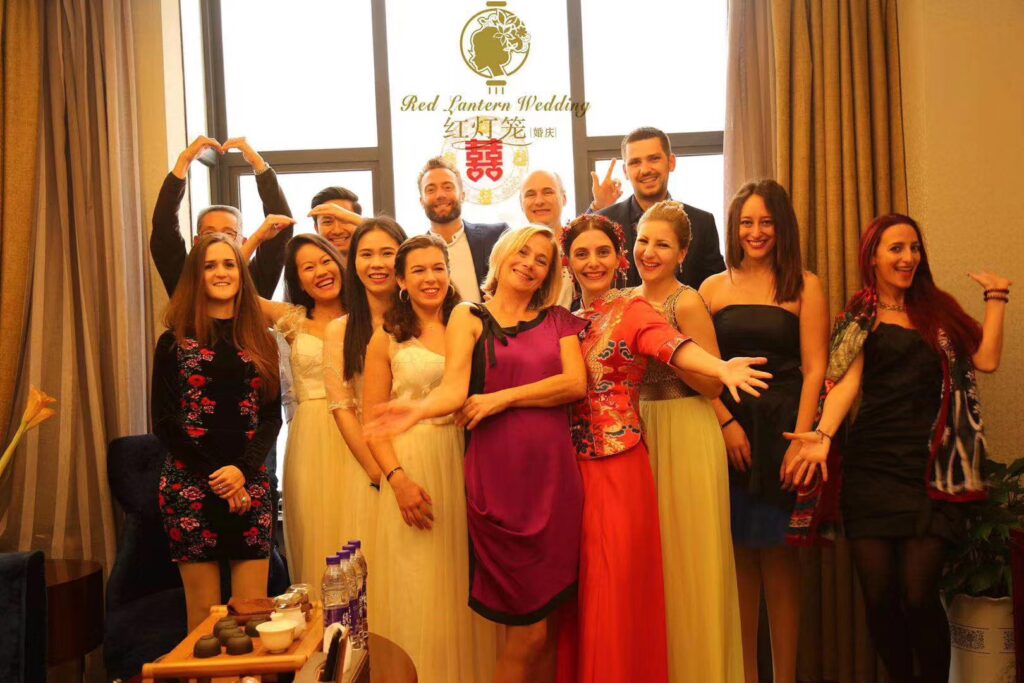 On October 2017, we got married. we had a very happy wedding, my family and friends were able to come. I was very touched… When I announced to my family that my fiancé was Chinese, it came as no surprise! My mother added: "the opposite would have surprised me".
2017年10月,我们结婚了。这是一场非常幸福的婚礼,我的家人、朋友都到场为我庆贺。我很感动……当我向我的家人宣布我的未婚夫是中国人的时候,他们没有一丝惊讶!我的母亲对我说:"如果你不是嫁给中国人,我才惊讶呢。"
For our wedding my husband, Luo had prepared everything with such precision. He absolutely wanted to make our wedding cake and buffet himself. I think it was the most exhausting day for both of us because a Chinese wedding is a lot of preparation and customs. Get up at 5am for makeup, change dresses 3 times. There is a whole tradition where I must first be "stolen" from my family and brought back to his parents, eating hard-boiled tea eggs in the morning paired with good rice alcohol (at least it wokes us up!). The wedding itself was like a show with a presenter, very different from weddings in my country. But in the end it was still very touching, the decoration Luo chose looked so much like me…Plum tree flowers, which reminds me of my Chinese name Meiluo. (Meiluo, "mei" means "plum").
我的丈夫,罗,精心准备了婚礼的一切。他自己制作婚礼蛋糕和婚礼自助餐。于我们而言,这是最让人精疲力竭的一天,因为中式婚礼有很繁琐的准备工作和习俗。早上五点起床上妆,换了三次礼服。传统仪式感满满,他们需要首先从我的家人那里把我"接"过来,然后带到他的父母面前,早上就着米酒吃茶叶蛋(这至少让人清醒!)。中式婚礼像一场演出,还有主持人,和法国明显不同。最后,也是最让我感动的是,罗所选择的梅花作为装饰……这让我想起了我的中文名字:梅洛。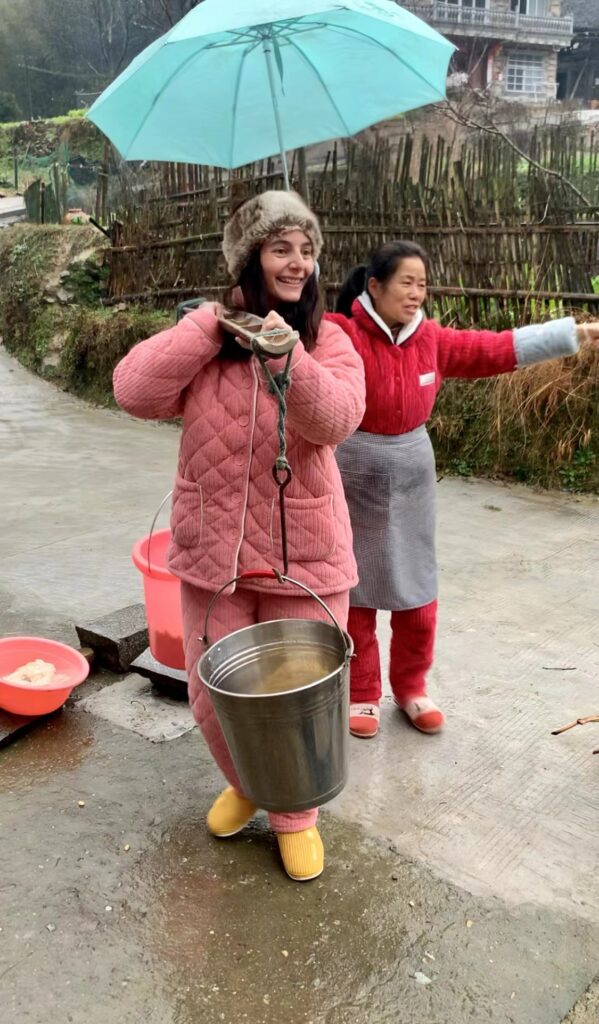 I love my in-laws from Hunan. I have a great complicity with my mother-in-law, she keeps telling me that I am her daughter and that she wants me to feel at home.
我极其喜爱我的湖南婆家。我与婆婆十分默契,她不断告诉我,我是她的女儿,让我像在家里一样。
For 5 years we have been living in Xiamen. Whenever we have a vacation, we go back to our family's home in the countryside of Anhua, a small village in Hunan. What I love most of all is to accompany my mother-in-law in her fields and grow vegetables with her. It teaches me a lot, I love this beautiful nature, this fresh air, this simplicity. The vegetables are excellent!
我们在厦门生活五年了。只要我们一有假期,就会回到湖南婆家度假,婆家在湖南省的一个小村庄(安华村)。我最喜欢做的事情就是陪我婆婆到田里,和她一起种菜。她教会我很多,我喜爱这里美丽的自然、清新的空气和单纯的生活。这里的蔬菜是"永远的神"!
This year my Chinese mother even taught me how to make our own tofu! We harvest bamboo shoots and lit fire together with the grandmother.
今年,我的中国母亲教会我自己做豆腐!我们一起出去采集竹笋,然后和祖母一起生火做饭。
Mama Luo gave me a big set of pajamas, not to sleep in, but to wear over my clothes during the day and we would go out in the fields to get harvest vegetables! It is very common, especially in this region of Hunan, to find people dressed in pyjamas in the street. A French woman in pyjamas in the Hunan countryside? A little less common haha! But after all I am a real "HUNAN XIFU" = "Hunan woman".
罗妈妈给了我一件大睡衣,不是睡觉用的,是套在白天穿着的衣服上的,我们就这样出去田里摘菜!这很常见,尤其是在湖南的小山村,你常常可以在街头发现穿着睡衣的居民。但是在湖南田野里发现一个穿着睡衣的法国女人!这可稀罕了哈哈!无论如何我是一名真正的"湖南媳妇"="湖南夫人"。
Maybe it'll become the "dernier cri" in Paris, who knows?
说不准这将成为巴黎最新时尚,谁知道?
April 8, 2022, the construction of my husband Luo's store is finished! I am so proud of him, his dream is coming true, today he finally has his own bakery-pastry shop! The name of the store? Melody Luo Bakery Welcome all food lovers!
2022年4月8日,我的丈夫罗店铺的装修完工了! 我为他感到骄傲,他的梦想成真了!如今,他终于拥有了属于自己的烘焙店!店铺的名字:罗梅洛烘焙店,欢迎所有的吃货前来品尝。
I come from a small village called Chailly-en-Bière, in the suburbs of Paris. My village is surrounded by the forest, many people like to practice climbing.  You can also find a lot of horses, small farms…… I grew up around nature and animals.
我来自一个名叫沙伊昂比耶尔的小村庄,在巴黎的郊区。我成长的小村庄为森林所环绕,很多朋友在那里尝试攀岩。人们还可以在那里看见很多马匹和小农庄。我是在自然和动物的环抱中长大的。

about France 
---
点击下方链接查看更多精彩故事