故事12 | The 'link' between Xiamen and Medieval Europe!
作者:Daniel

翻译:Daniel、Joanne

校对:Luz、Zuzana、Joanne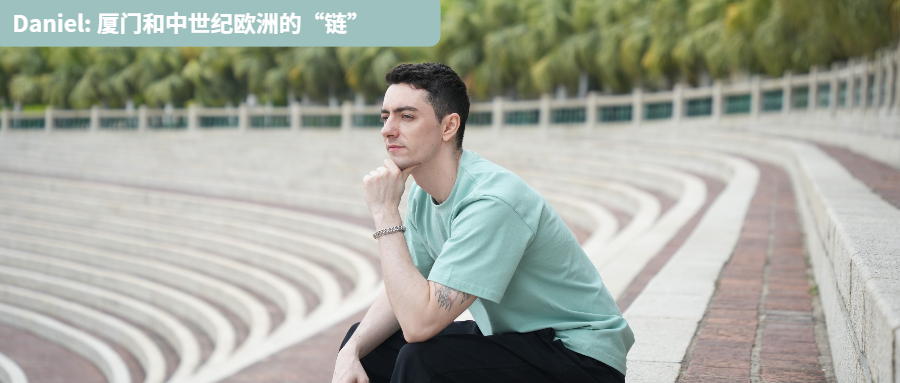 Hello everybody! I'm Daniel from London, UK. I'm a Chinese language undergrad student at Xiamen university, and I've been here for three years. I want to share a story about my unique hobby and how I managed to set it up in China! I hope you're interested in history and metallurgy, if not, you can always skip to the end and look at the pictures! Haha!
大家好!我叫王劭侯,来自英国伦敦。我是一名厦大汉语专业本科生,在中国已三年了。我想与你们分享我的故事,关于我独一无二的爱好以及我是如何在中国将它实现的。希望你们对历史和金属感兴趣,不然你们可以直接刷到下面看好看的照片!
Many people have asked about it, and I can assure you it's nothing to do with writing emails. My hobby is making chainmail. Yes, you read that right, real chainmail! Further below I have written about how it's done, but first I will address a question that all (non-gamer) Chinese are probably are asking: What on Earth is chainmail?
很多人都问过关于锁子甲的问题,我可以向你保证这和群发的垃圾邮件没有任何关系。(chain mail在英国指群发的垃圾邮件)我的爱好是亲手制作锁子甲。是的,你没看错,真锁子甲!我在文章后面,写下了制作方法,但我先解决非游戏玩家的中国人可能会提出的问题:锁子甲到底是个啥呢?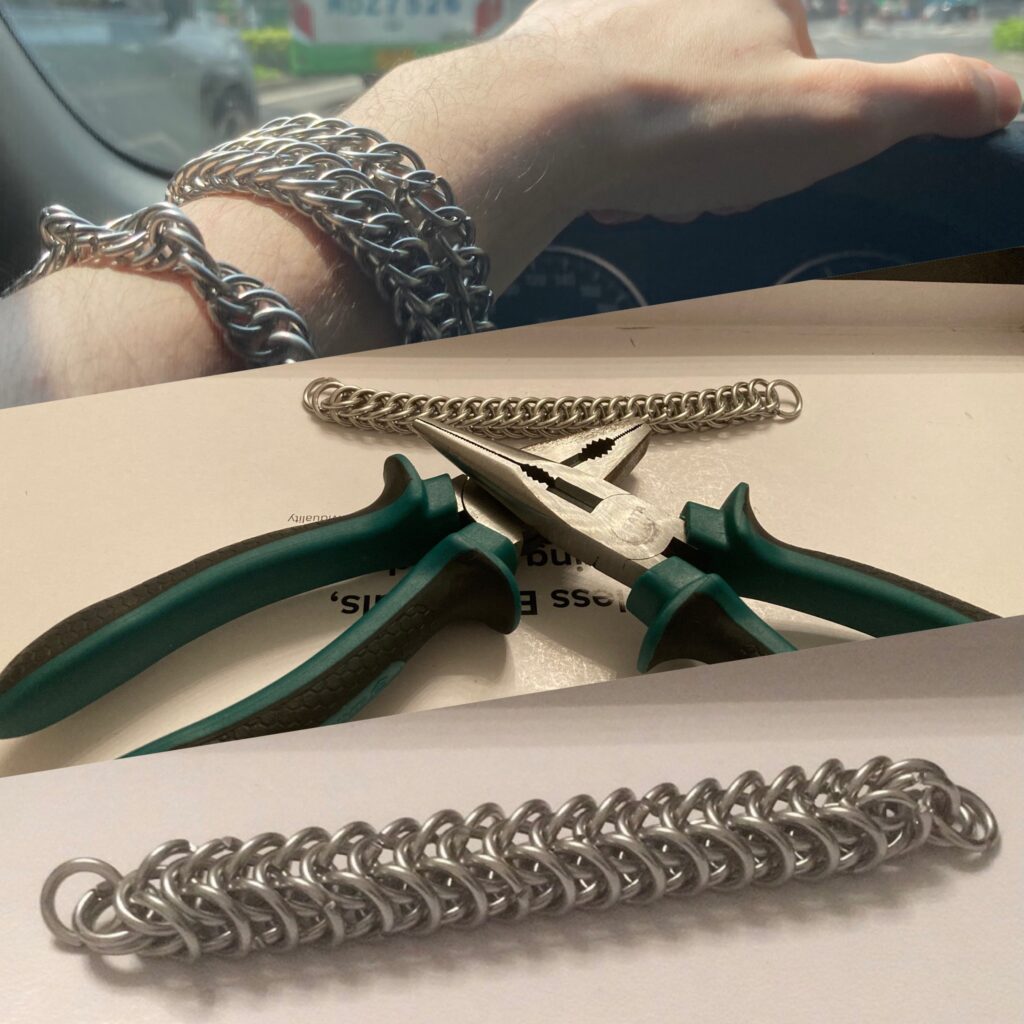 The reason that most Chinese people have not heard of chainmail is because historically, China is the only country in the northern hemisphere that did not develop its own chainmail. Even during the Han dynasty this 'chain link armour' was known about, and even was imported for military use, serving as a rare and exotic foreign symbol of wealth. This type of armour not only provided effective protection and was comfortable to wear, procuring its materials wasn't hard at all, hence why it was widely produced. To explain it simply, chainmail is a fabric-like armour made by interlocking metal rings. For us Europeans, just to hear the word likely brings to mind images of medieval knights in the armour.
大部分中国人之所以不知道锁子甲这种铠甲,是因为在全北半球历史中,中国是其中唯一一个没有发明自己锁子甲的国家。连汉朝的人都知道国外这种"链子甲"的存在,甚至因为战争需要,引进了它,作为一种既奇异又罕见的外国强权象征。这种铠甲不但能有效保护身体、穿戴舒服,而且获取原材料并不难,因此用途很广。简单来说,锁子甲是由互锁金属环制成的类似织物的防身盔甲。我们欧洲人一听到锁子甲就会想起中世纪骑士的样子。
Even though there hasn't been demand for chainmail armour for a long time, the techniques of making it have definitely not been lost to time. On the contrary, some modern people have revived it and turned it into a distinct art form; using strength to manipulate metal and create exquisite patterns.
尽管锁子甲已经很久没有需求了,但这项技能并没有绝迹。反而被一些现代人复兴成一种独特的冲突美艺术,人为将金属打造成精美的图案。
I am one of those modern people.
这些现代人也包括我。
So I decided to revive it here in China, to strike while the iron's hot. But! With all my tools still in England, and being unable to go back to bring them here (lest I be forever trapped outside of China), I knew gathering everything and starting from scratch would be a lot of work.
我决定趁热打铁,在中国重新开始。可是!工具都在英国,还不能亲自回国拿(否则回不了中国),我知道重新收集我所需要的东西是个很费工的任务。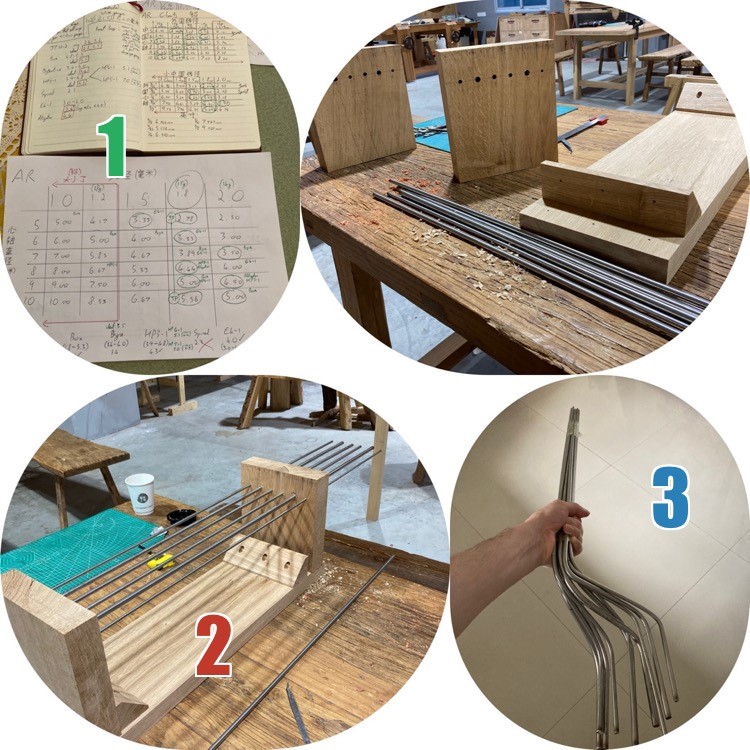 Step1: RECALCULATION
第一步:重新计算
I had to recalculate all the mathematics we chainmaillers rely on. China uses completely different measurements, so the information I used back home was all rendered obsolete!
我把锁子甲所需的数字表重新计算了一遍,中国的尺寸都不一样,国外的用不了。
Step2: MEET Jin Yanfeng, the woodworking master
第二步:见金燕锋,木头大师
I bought some steel rods to be made into 'mandrels'. Now, I just needed to find a carpenter. This occupation actually was very hard to find! I asked my friends, teachers, and even my WeChat moments, until finally I found this incredibly skilled carpenter. He's far too modest, telling me "I just enjoy making things with wood as a hobby, I'm not very professional", but just look at his flawless work in making a frame for the 'mandrels'! Master Jin, I was almost fooled by you until I saw you work with such skill and diligence!
我先买了不锈钢的棍子,它们要成为我的"心轴"。现在,我只要寻找一位木匠。这个行业的行家其实不容易找!我问了我的朋友、老师、甚至朋友圈寻找,终于找到了这位很优秀的木匠。他太谦虚了,跟我讲"我只是喜欢玩木头,没那么专业。"但,看着那么完美的"心轴"架子就知道了。金师傅,我差点就被你骗了,你却游刃有余嘛!
Step3: MEET Yangkui, the heaven-sent "metalsmith"
第三步:见杨逵,天堂派来的"铁匠"
I scoured all of Xiamen in search of a metalworker to help me. On the last day, in the last place I had on my list, I was refused again. I thought then I had reached the very end of the road. As I was reluctantly getting ready to go home, I thought "This is the final step! Surely I can't give up now?" and instead, filled with determination, I walked aimlessly hoping to find this needle in a haystack. I did find another shop, a small steel shop which wasn't on any map, and I interrupted the boss eating lunch with his family and asked…and was rejected again. But this time was different! He knew a friend of a friend who may be able to help me: Master Yang.
我跑遍了厦门的金属加工商店。最后一天,在最后一家店里我又被拒绝了。我以为已山穷水尽。当我不情愿地准备回家时,脑子里突然冒出一句话:"万事俱备,只欠东风!"于是,我决定边走边大海捞针。我确实找到了另一家商店,一家不在任何地图上的小钢铁店,我打断了老板和他家人吃午饭,询问了一番,虽然再次遭到拒绝,不同的是,这一次老板说,他认识一个可能能帮我这个忙的朋友–杨师傅。
In his company building he welded two pieces of metal atop one of his machines, then used his raw brawn to cold bend handles into every rod – even the thickest 9 and 10 millimetre ones, which despite testing his mettle also proved no match for his brute force. He thought nothing about travelling far and wide to find a lathe to drill the necessary holes in the cylindrical steel rods. He has a heart of gold, not only did he use his every resource to help me, but after helping create the perfect 'mandrels', he consistently rejects any attempt of mine to pay him for his service!
杨师傅在自己公司的设备上焊接了两块钢筋,然后用力把每一根手柄弯成杆子,哪怕最粗的9毫米和10毫米的杆。这虽然考验他的勇气,但事实证明并不能难倒他。他还不远千里地找一个有车床的地方打了我需要的孔眼。杨师傅有一副菩萨心肠,他不仅不遗余力地帮助我完成我的"心轴",而且不收我一分钱!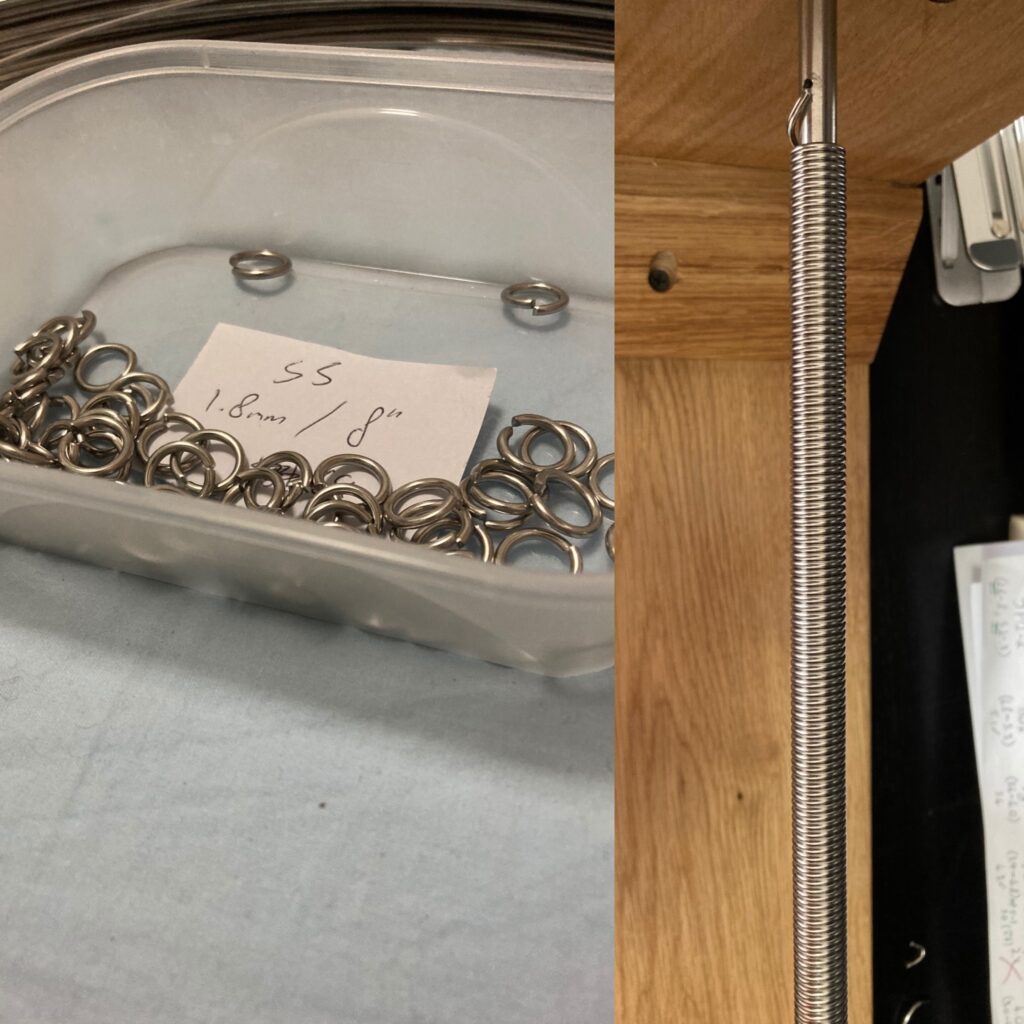 With everything all set, we can finally make chainmail like a medieval artificer! After passing the steel wire through the eye of the 'mandrel', we can rotate the handle and twist the wire into a spring. We then use bolt cutters to cut each ring one-by-one. Finally, the chainmailler can use pliers to arrange and lock these jump rings into any number of elaborate designs – something we actually call a weave.
所有材料都准备好了,咱们终于能像中世纪的技师一样制作锁子甲了!金线进入"心轴"上的孔眼之后,我们可以转动把手,将钢丝拧成弹簧,然后把弹簧一个一个地切成开口环。最后,可以用钳子将这些开口环排列和锁定成精美的图案 – 事实上我们称之为"编织"。
What you see are all made with stainless steel, (much harder to work with compared with the galvy wire I first started with), but you can also use aluminium that has been anodised to give it colour! Here you can see my mum holding her Christmas gift one year: a Welsh flag made of chainmail.
你们看到的产品都是用不锈钢线来做的,(比我先玩的镀锌钢筋丝可难多了),但是你们也可以使用阳极氧化的彩色铝线来制作!这张照片里可以看到,我的妈妈拿着她的圣诞节礼物:一面锁子甲的威尔士的国旗。
I didn't imagine it would be so much work, it honestly took about three months and it still hasn't finished – but it's been totally worth it! Largely because of these two admirable craftsmen I have completed my set up. They did not allow me to falter in 'taking up this gauntlet', and thus nestled in a small corner of modern Xiamen is the beating heart of an almost lost medieval skill: making chainmail.
我没想到会有这么多工序。说实话,花了大约三个月的时间,仍然没有完成—但它完全值得!大概是因为这两位令人敬佩的工匠,我完成了我的爱好。他们不让我"丢盔弃甲",因为在现代厦门的一个小角落里,有一颗为几乎已经失传的中世纪技艺而跳动的脉搏: 制作锁子甲。
P.S. Last year's story I talked about Teacher Huang's disability centre that he set up himself in Xiamen's Tongan district. In the future I want to try selling some of the chainmail things I can make whilst simultaneously supporting his project. If you want to help too, feel free to contact me! I hope everyone, wherever you are, is able to find local meaningful projects to apply themselves to.
P.S.去年的故事我讲到了黄老师自己建立的同安区残疾人中心。我未来想试一试售卖自己制作的锁子甲产品,同时支持他的项目。如果你也想帮忙,请随时联系我!我希望每个人,无论你在哪里,都能够找到当地有意义的项目,投入其中。
---
点击下方链接查看更多精彩故事