故事20 | What does the other side of the world look like?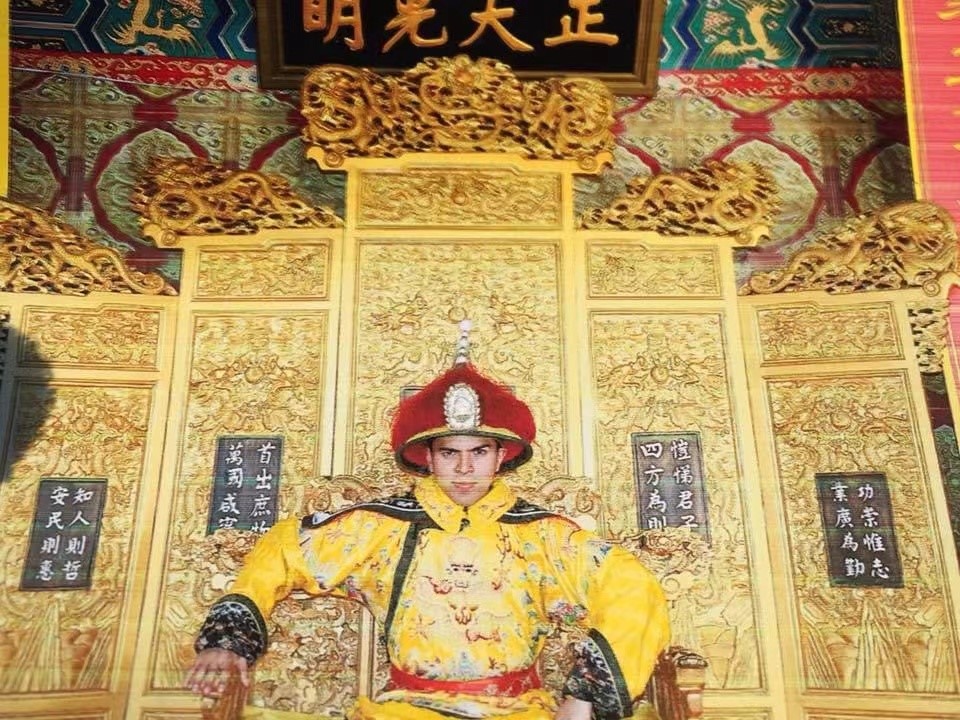 My name is Daniel Esteban Perdomo Rincón and I was born in Bogotá, Colombia 27 years ago. I am currently an English teacher in a high school in Huizhou, China, and I have been in this country for about four years now.
我叫 Daniel Esteban Perdomo Rincón,今年 27 岁,来自哥伦比亚波哥大。我在中国已经呆了四年,目前在中国惠州一所高中当英语老师。
My city in Colombia offered a degree in English studies, but I chose teaching and set a goal for myself to learn English very well in order to be able to teach others. I have always liked the pedagogy part, sharing knowledge with someone else to help them improve. So during my studies in Colombia, I came to China in 2018 to do an internship in a school, and then I went back immediately for graduation. Back in Colombia, I worked for two months in a private school, but that was the extent of my experience in education there. China gave me the opportunity again in 2019 to develop myself as a teacher.
我在波哥大获得了英语研究学位,但我选择了教育。我为自己定了一个小目标,要把英语学到出神入化,才能教别人。我一直很喜欢教育学,传授知识,提升素质。2018 年,我在哥伦比亚学习期间,来到中国,在一所学校实习,但由于即将毕业,我必须马上回国。回到哥伦比亚后,我在一所私立学校工作了两个月,积累了一些教学经验。2019 年,中国给了我第二次机会,让我成为一名老师,提升自己。
I had always dreamed of doing an international internship, and I heard that some friends had volunteered in Brazil for two months, and that it counted as a degree option. Then, with my desire to travel, I learned through a company that there were many options to go abroad to countries such as India, Turkey, Russia, Brazil…and on the list was China. Chinese culture had always fascinated me, with its long history of dynasties, its culture so different from that of Colombia. For example, Colombia may be different from Brazil, but since we are all Latinos, the essence is similar. But I was curious about China, all the way on the other side of the world.
我一直梦想着出国实习,听说一些朋友在巴西做了两个月的志愿者,而且这也算作一项学位选修课。我对出国旅行充满渴望,通过一家公司了解到,有很多目的国可供选择,如印度、土耳其、俄罗斯、巴西……名单上也有中国。中国文化一直令我着迷,中国经历了悠久的王朝更迭,与哥伦比亚文化存在着巨大的差异。哥伦比亚可能与巴西不同,但由于我们都属于拉丁美洲,所以本质是相似的。但世界的另一端中国则完全不同,我对它充满了好奇。
I wanted to get to know and explore that culture and that different language. At no time was I afraid; I had a classmate who had a bad experience in China, but that didn't scare me. I did wonder how I was going to take care of myself without knowing Chinese, but at the same time, that motivated me and pushed me, so it was a great decision.
我想去探寻中国文化和语言。我从来不会畏惧,有一个同学在中国遭遇了不好的事情,但这并没有吓到我。我真想知道不懂中文的情况下如何照顾自己,同时,这也激励了我,推动我来到中国,这是一个伟大的决定。
I am very grateful to a Colombian who was here and gave me detailed directions when I first arrived in China. I landed in Hong Kong and I knew exactly which bus I had to take, and how to get to the city of Huizhou.
我非常感谢一位在中国的哥伦比亚人,刚到中国时,他非常细致地给我指路。我在香港落地,幸亏有他的帮助,我才知道应该乘坐哪辆巴士,如何前往惠州。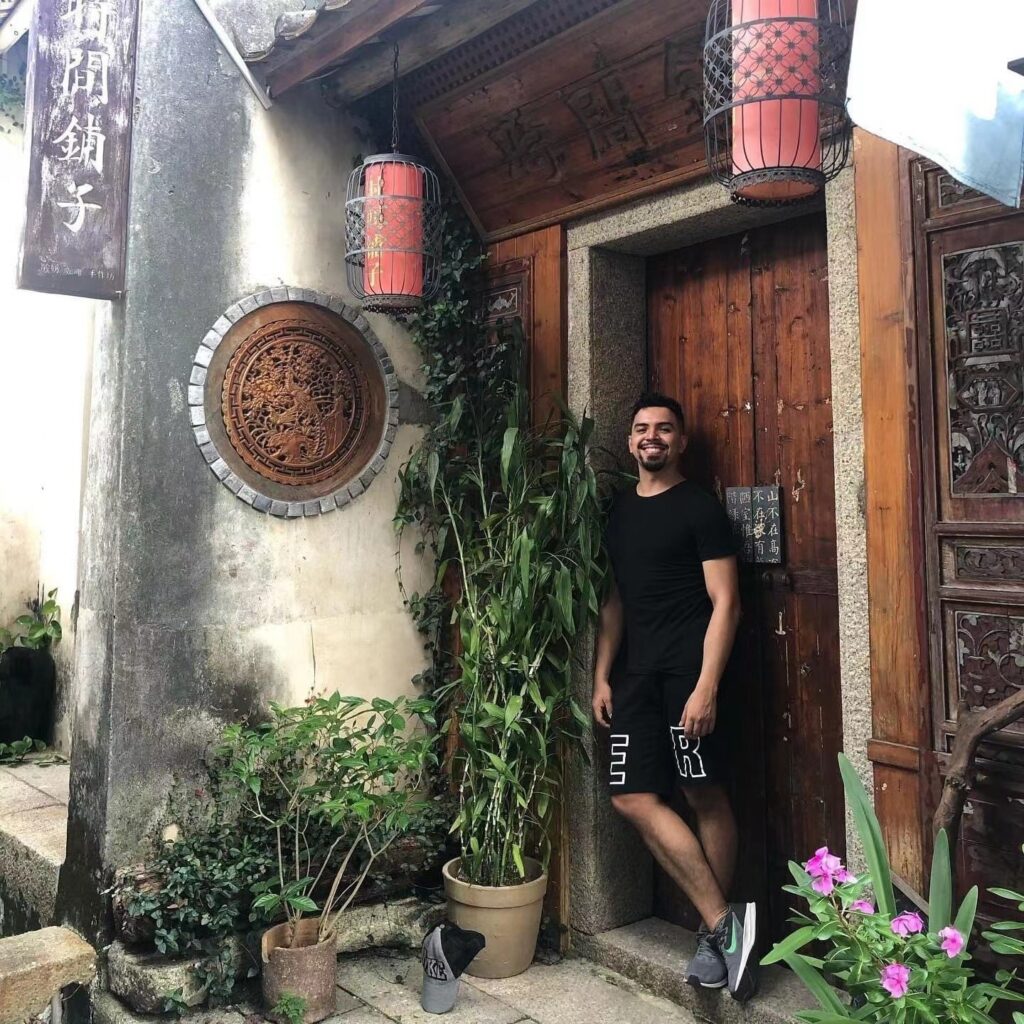 After that, I was rather shy. What I would do was write Chinese characters on a piece of paper to show people, or take lots of pictures and print out the names of places to ask for directions.
从那以后,我就相当害羞了。我会在纸上写汉字与别人交流,旅游时会拍很多照片,问路时会把地名打印出来。
After my internship in China, I returned to Colombia. I liked it very much and I left very happy. I made my graduation presentation about my experience in China, and the professors loved it. Then, when I was about to graduate, my first boss wrote me to invite me to come back to Huizhou. They provided me with a visa and tickets, and I said yes without thinking. I graduated, and two days later I was back in China with my first job.
在中国的实习结束后,我回到了哥伦比亚。我非常喜欢中国,带着愉快的心情离开了。我在毕业典礼上做了一场演讲,主题是我在中国的经历,教授们都很喜欢我的演讲。即将毕业的时候,我第一个老板发信息请我回惠州。他们给了我签证和机票,我想都没想就答应了。我毕业两天后,回到了中国,开始第一份工作。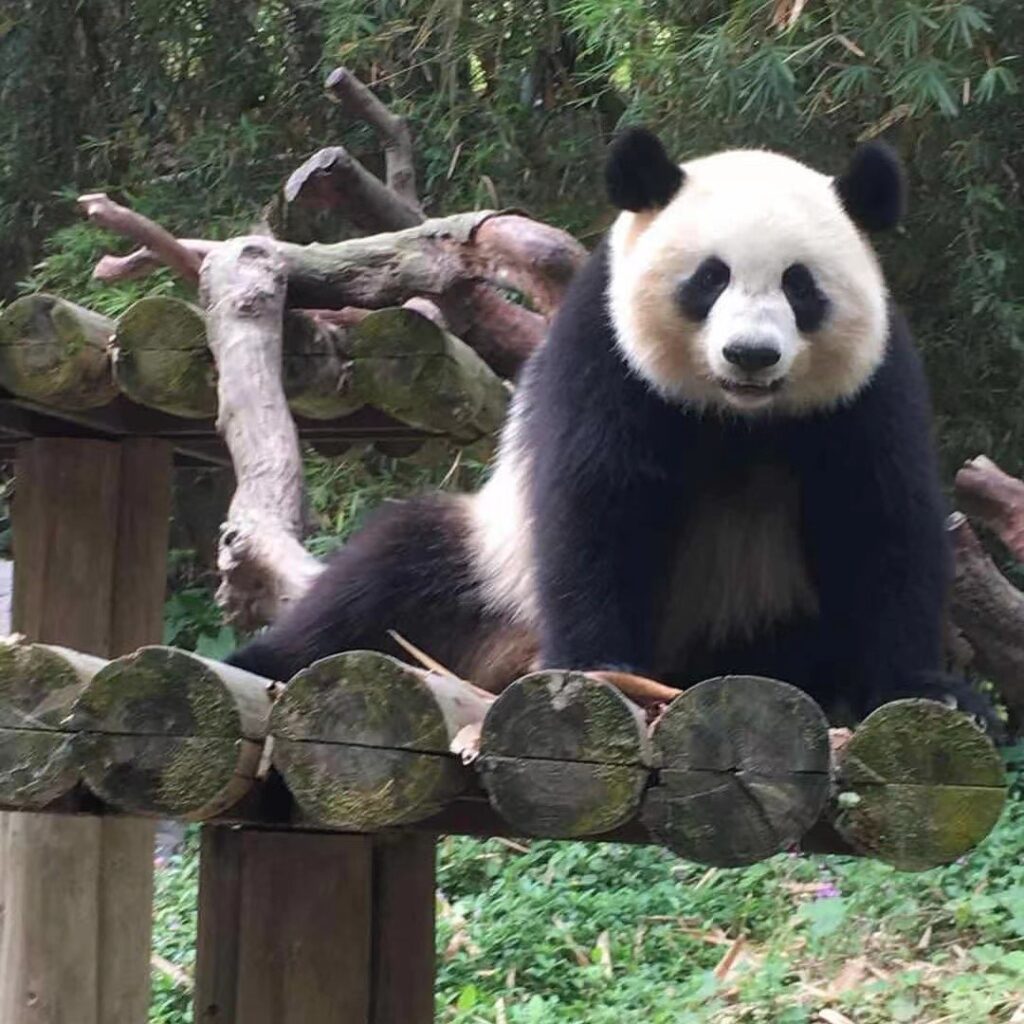 I love China's temples, and all those ancient cities and villages. The first time I came here, my big goal was to visit the Great Wall of China. I went to see the Terracotta Army in Xi'an. In Guangzhou I went to see the pandas, which was my big goal. I love the colors of the temples and the colorful animal statues. I also went to Zhangjiajie near Shanghai, and although there were a lot of people and it was cloudy, I enjoyed it just the same. I also went to Yunnan, to Shangri-La and the Tiger Leaping Gorge hike. I really, really loved it! I really like natural places, hiking, and parks, and China has a lot of very beautiful places like that. But my favorites are the ancient villages like Dali and Shangri-La.
我喜欢中国的寺庙,还有那些古城古村。我第一次来中国的时候,最主要的目标就是参观长城。我去西安参观了秦始皇陵兵马俑,去广州看了大熊猫,这也是我的主要目标。我喜欢寺庙缤纷的色彩,以及五颜六色的动物雕像。我还去过张家界,虽然游客很多,而且当时是阴天,但我还是很喜欢那里。我还去了云南,游览香格里拉,在虎跳峡徒步。我真的真的很爱云南!我真的很喜欢自然,真的很喜欢徒步旅行,还有公园。中国有很多这样美轮美奂的地方,但我最喜欢的还是大理和香格里拉这样的古村落。
As a Latino, I have noticed cultural differences in social relationships. Latinos are very affectionate and expressive. Friends hug each other and smile a lot. I realized that in China there is not that much physical contact. My Chinese friends often tell me that I say "thank you" too much. They tell me that here there is no need to express gratitude so much, and they wonder why I am always so happy and smiling. You realize that people here are more introverted.
我是拉美人,我能感受到社会关系中的文化差异。拉美人富有激情,很有表现力。朋友之间会拥抱,互致微笑。而在中国,没有那么多的身体接触。我的中国朋友经常告诉我,我说"谢谢你"的次数太多,在中国没有必要频繁地表达感激之情。他们想知道为什么我总是那么开心,那么爱笑。你会感受到,这里的人更内敛。
As for Chinese food, I am faithful to the most basic food: dumplings, noodles, and fried rice "chaofan." I love hot-pot. I don't usually eat other dishes. Maybe I tried them and didn't like them, I don't know. But I love dumplings and noodles, although they tell me it's a bit like fast-food in China. I found some Colombian restaurants in other cities, so when I miss the ingredients and seasonings of my country, I like to visit them.
说到中国美食,我忠实于最简单的食物:饺子、面条和炒饭。我爱火锅。我通常不会吃其他菜肴,也许我尝试过,但我却不喜欢,我不懂为什么。我爱吃饺子和面条,虽然他们告诉我这是中式快餐。我在其他城市发现了几家哥伦比亚餐厅,所以每当我想念家乡的味道时,我就会去这些餐厅。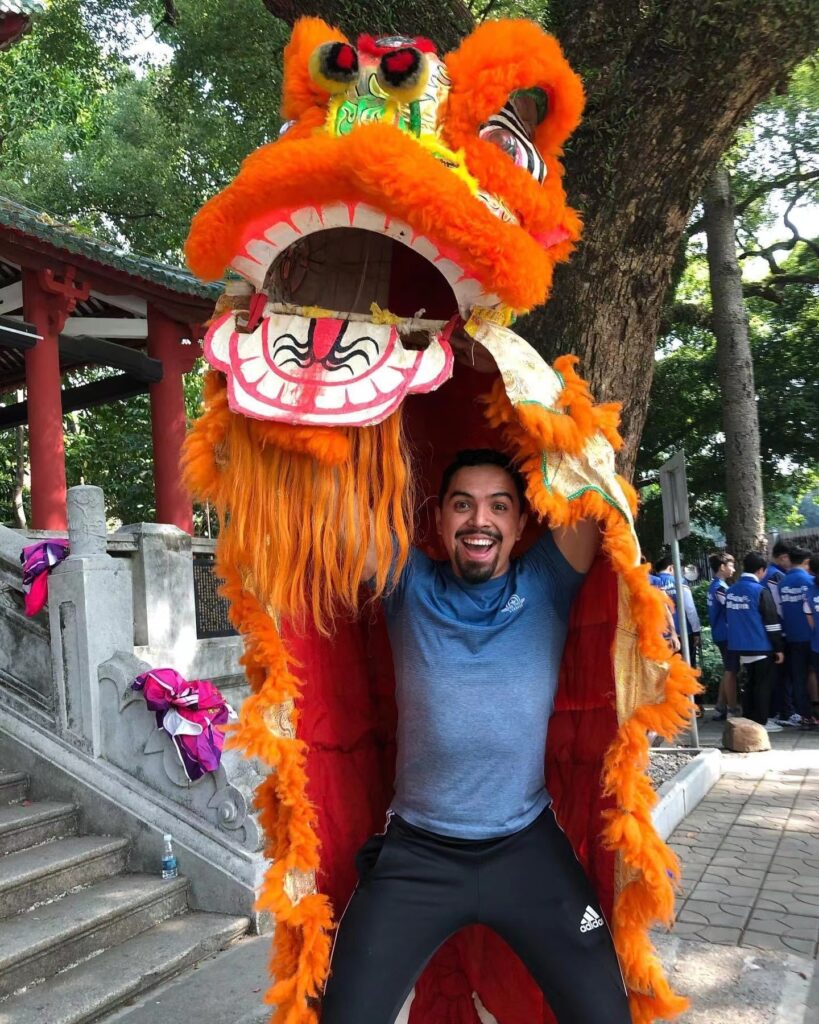 ​I think we can all divide our lives into pre- and post-pandemic. For me, life in China before the pandemic was very different. I was able to travel to so many other countries like Thailand, Cambodia, and Vietnam. South Korea, the Philippines, Laos, and Japan were on my list of countries to visit. But since the pandemic began, getting around has not been as convenient. In any case, I felt safe here during the pandemic and I felt that I shouldn't leave. So I think I will stay maybe one or two more years in China to grow professionally as a teacher, and to reach a conversational level of Chinese and be able to take care of myself.
我想我们都可以把生活分为疫情前和疫情后。对我来说,疫情前在中国的生活是五彩斑斓的。我能到其他国家旅行,如泰国、柬埔寨和越南。我也曾打算到韩国、菲律宾、老挝和日本旅游。但疫情爆发后,出行就不那么方便了。我觉得疫情期间,中国相当安全,我不应该离开这里。因此,我也许会在中国再呆上一两年,继续当一名老师,提高我的专业素养,继续学习中文,争取可以流利对话,能照顾好自己。
I have encountered very kind people in China who have tried to help me even without knowing English. I have also found people who avoid me or are a bit rude to me. But I feel that this is the case everywhere. I'm not saying it's something that happens only in China. As a Latino, when I first arrived, they asked me why I was black, and I didn't understand. I explained to them that my skin color makes me who I am, that I am Latino and I love my skin color.
我在中国遇到过非常善良的人,他们即使不懂英语也会尽力帮助我。我也发现有些人会躲着我,或者对我有点不礼貌。但我觉得这种情况在任何地方都会发生,并不是中国才会有的情况。我作为一个拉美人,刚到中国时,他们问我为什么是黑人,我不明白怎么回答。我解释道,我生来就是这样的肤色,我是拉美人,我爱我的肤色。
I felt rejected at first, but I realized that it is not about me. In China, they tend to generalize everything. It may be without bad intentions, but they include all foreigners in a group. At first I did feel bad, but it helped me to feel proud of who I am, my skin color, and even my hair. My students used to make fun of my wavy hair and say I had a bird's nest on my head. Eventually I learned that my wavy hair makes me who I am and I love it.
起初我有一种被排挤的感觉,但我意识到这与我无关。中国人喜欢给一切分门别类,他们可能并无恶意,但他们把所有外国人归为一类,起初我确实感到很不舒服,但这让我为自己的身份、肤色、甚至发型感到自豪。我学生曾经取笑我的卷发,打趣说我的头上顶着一个鸟窝。但我明白,卷发就是我的标志,我爱我的卷发。
I would encourage anyone in Colombia who has the chance to come to China, because it can dispel many stereotypes. For example, that false myth that everyone eats dog meat. To come here is to learn not to get carried away by everything you hear, to learn for yourself. Whether you are from Asia, Europe, or America, we all have stereotypes about the unknown, so I would encourage people to come and enjoy the ancient culture of China and get to know what the people here are really like.
我鼓励哥伦比亚人只要有机会,都来中国看一看,这可以消除许多成见。比如,传说所有中国人都会吃狗肉,这显然是谣言。来这里是为了眼见为实,不要被你听说的所迷惑,要亲自来了解。无论你是来自亚洲、欧洲还是美洲,我们都会对未知的事物有成见,所以我鼓励人们来感受古老的中国文化,了解中国人到底是什么样子的。
转载请注明来源:我在中国的家
---
点击下方链接查看更多精彩故事