故事34 | Helen: Nailed it
作者:Helen Bondarenko

翻译:潘泽彬

校对:Luz、Joanne、James
My name is Helen. I'm 29 years old, and I'm from Ukraine, from a small city named Zaporizhzhia. I have been living in China for more than 6 years and I bake the most delicious cakes!
我叫 Helen,今年29岁,来自乌克兰一座叫扎波罗热的小城市。我在中国生活了 6 年多,我做的蛋糕是世上最美味的!
But it wasn't always like that. One day there was a turning point that allowed me to see new talents in myself and completely change my career.
但生活并不是一成不变的。一天,我迎来了人生转折点。我发现了自己身上的新天赋,职业生涯因此完全改变。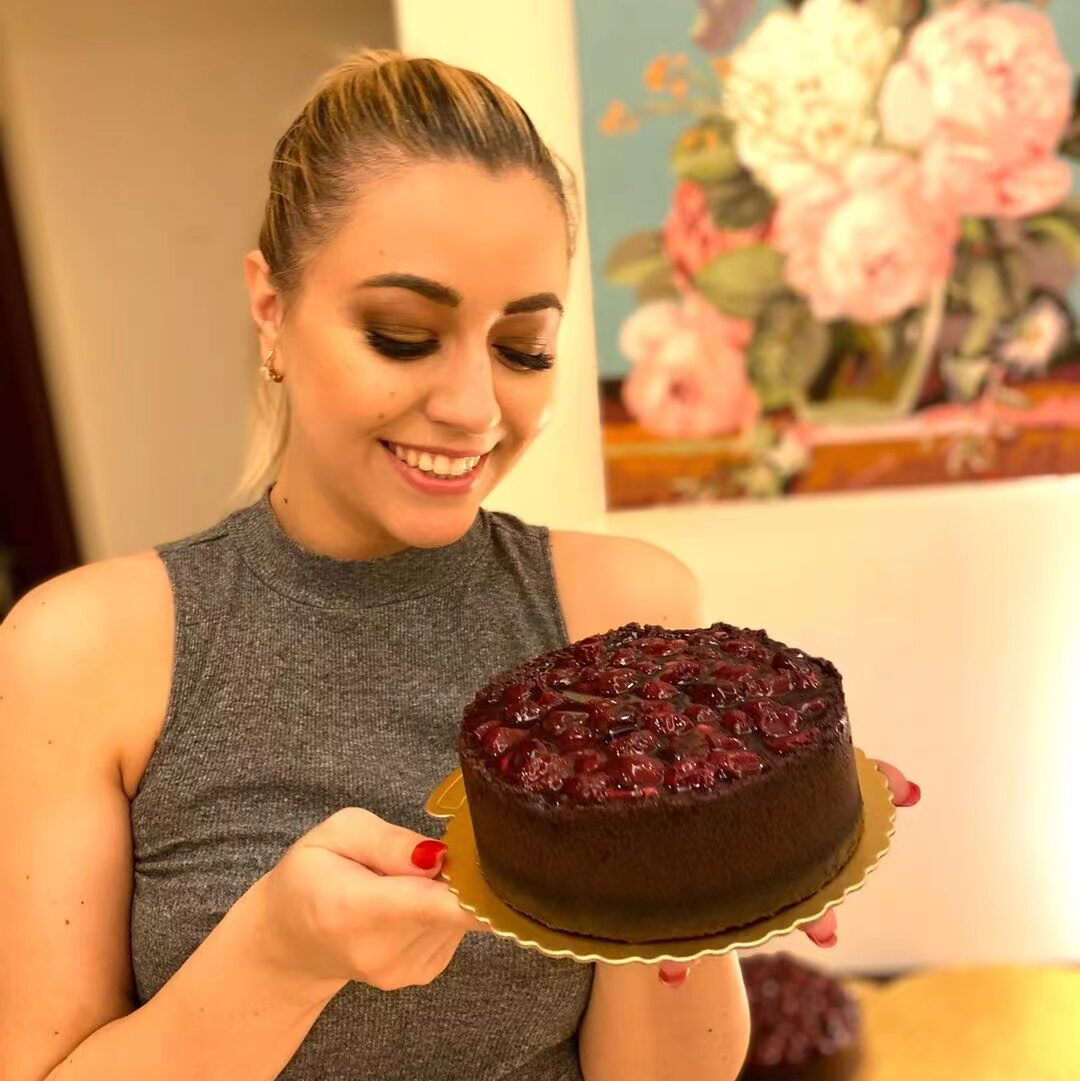 My mother always cooked very delicious meals, and all of my childhood is associated with memories of holidays, feasts, and weekends, when my mother cooked a lot of very tasty dishes. In the post-Soviet space, it was not possible to buy a cake in a supermarket. After all, there weren't even any supermarkets. So my mother cooked cakes for every holiday, birthday, New Year, etc., when she wanted to treat us with something delicious. When I was little, I would try to help her, and sometimes I just watched the process! It fascinated me that mom had a lot of signature cakes, but my favorite was meringue cake. My grandmother's signature desserts were always "cherry house cake" and "Napoleon."
我母亲做的饭菜非常好吃,童年的记忆充斥着假日、宴会和周末,那时我母亲会做很多美味佳肴。后苏联时代,不可能在超市买到蛋糕,毕竟当时甚至连超市都没有。所以我母亲在每个假日、生日、新年都会做蛋糕,我们大快朵颐。小时候,我会给她打下手,有时只是看着母亲做蛋糕。母亲拿手的蛋糕有很多,但我最爱的还是酥皮蛋糕。我祖母的招牌甜点是"樱桃屋蛋糕"和"拿破仑蛋糕"。
As a teenager, I also became interested in cooking desserts. Using my mother's cookbook, at the age of 14, I was already preparing my first profiteroles. I really enjoyed the process and the joy of family members trying my desserts. But, unfortunately, the older I got, the less time and energy I had to cook. Over time, priorities changed, and I stopped cooking altogether. School years were replaced by university years, then studying in China, work… In the blink of an eye more than 10 years flew by.
十几岁的时候,我也开始对烘焙感兴趣。我 14 岁的时候,参考母亲的烘焙手册,开始尝试做泡芙。我真的很享受这个过程,也很享受家人品尝我做的甜点时的喜悦。但遗憾的是,长大后我就越没有时间和精力去烘焙。生活中有许多事情比烘焙更重要,我放弃了烘焙,升入大学,然后来中国留学、工作……眨眼间,已过去 10 多年。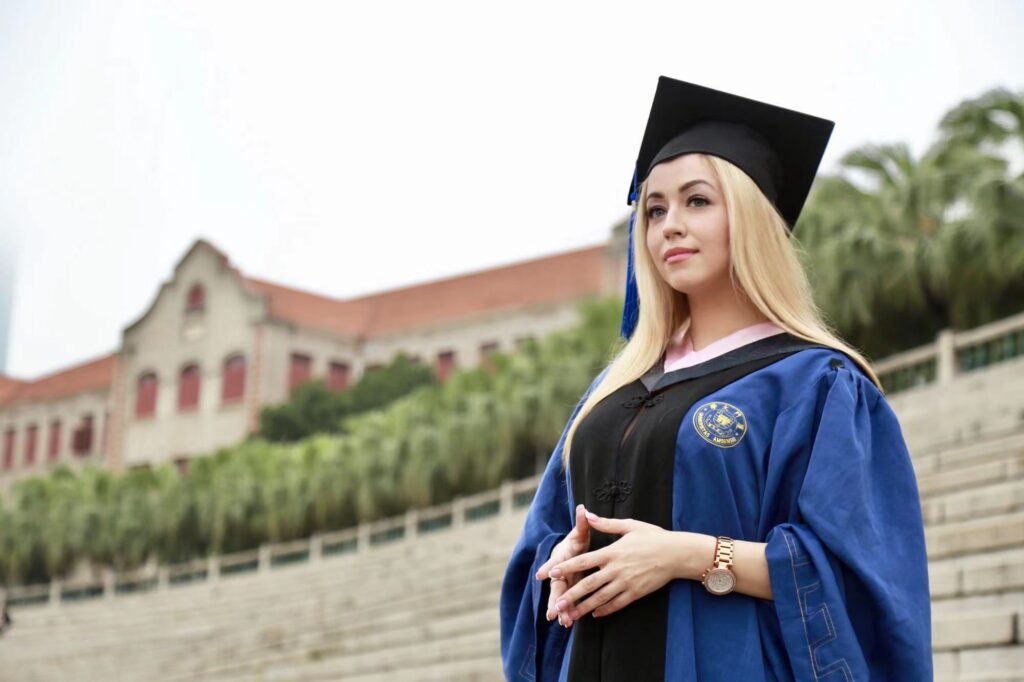 I graduated from the Honchar Dnipropetrovsk National University, majoring in Chinese Philology, even though I had never been interested in Asian culture or China, and in general I had never planned to study this subject.
我毕业于本查尔·德尼普罗普特罗夫斯克国立大学,汉语言文字学专业,但我当时对亚洲文化和中国并不感兴趣,而且我本来并没打算学习这个专业。
How did I end up there? Pure chance, or even fate.
我怎么会走上这条路呢?纯属机缘巧合,甚至可以说是命运的指引。
At the age of 18, one of the criteria I had for choosing a university was "somewhere, but not in my hometown." So I went to admissions offices in other cities: Kharkiv, Dnipro, Kyiv. I dreamed of studying journalism or international relations. Back in 2011, there was no way to submit documents online, so I had to personally go and queue for hours (sometimes at 6 o'clock in the morning!).
18 岁时,我立下了选择高校的标准:异乡。所以我拜访了其他城市的招生办:哈尔科夫、第聂伯罗、基辅。我梦想学习新闻学或国际关系。时间回到 2011 年,当时无法在网上提交申请文件,所以我必须到现场申请,要排上几个小时的队(有时凌晨 6 点就得排!)。
When I arrived at the admissions office in Dnipro, I stood in line for four hours. Finally, it was my turn, and I thought I was applying to major in journalism; imagine how disappointed I was to be told that I had been waiting at the wrong door. But I thought it would be a shame for all that time to go to waste, so I asked: "Well, what do you have here?" It turns out that it was the Department of Languages and Culture Studies (Philology). I saw "Chinese Philology" and chose it randomly.
我在第聂伯罗招生办排了四个小时的队。终于轮到我了,我以为申请的是新闻学专业,实际上我排错了队,在错误的门口等了四个小时,你可以想象我当时有多沮丧。但我想,如果白白浪费这四个小时,那也太可惜了。所以我问道:"你们这里是什么系呢?"原来是语言和文化学系(语文学)。我看到有"汉语言文字学",二话不说就选择了这个专业。
I actually forgot about it, until one day, they called me and invited me to study there with a scholarship! That's how the Chinese language came into my life, and it brought four years of hard work! I had never been an excellent student, but I was very hardworking. Unfortunately, Chinese was really hard for me. The language was very challenging and I couldn't get along with my main university teacher. But diligence is the mother of success. After graduation, I won a state scholarship for a year to study the language in China in 2015. That sounded like a dream! Such an adventure and such an achievement!
然后这件事就被我抛之九霄云外。直到有一天,招生办给我打电话,通知我去学校报到,还给我提供奖学金!就这样,中文进入了我的生活,我开启了四年苦读生涯!我从来不会标榜自己是个优秀的学生,但我懂得笨鸟先飞的道理。但是,中文对我来说真的很难。学习语言非常具有挑战性,我跟不上大学老师的进度。但"勤奋"是成功之母。毕业后,我赢得了国家奖学金。2015 年,我来到中国,学习一年的中文。这一切就像做梦一样!充满冒险,充满成就!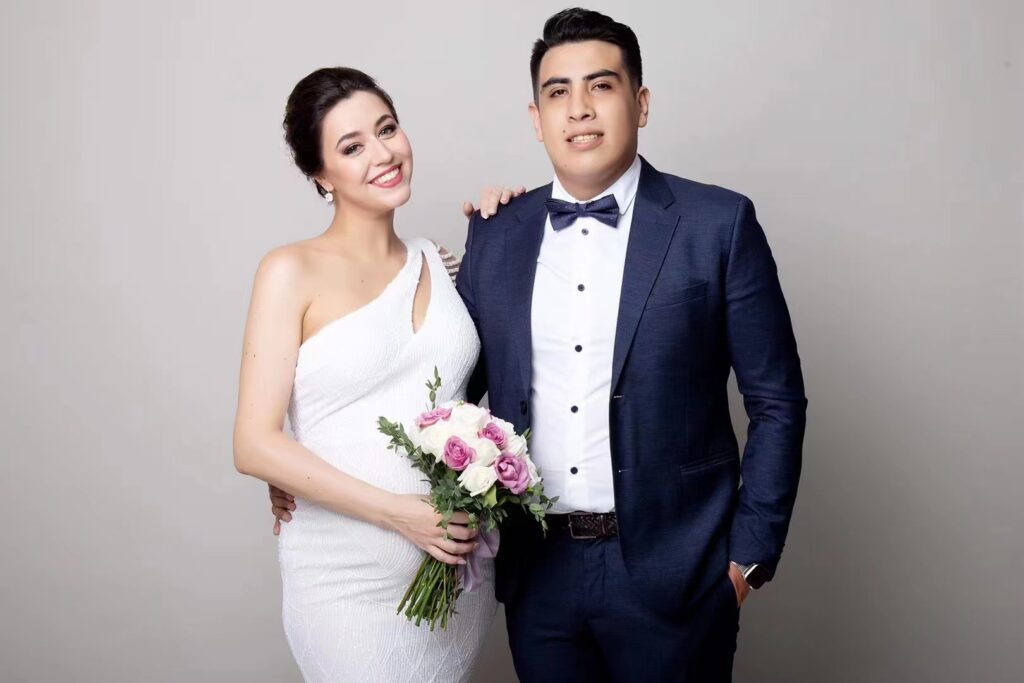 Currently I have lived in China for more than six years, in Xiamen,which has become my second home! In six years, I:
• improved my Chinese;
• got a master's degree in China in international relations;
• worked for several years as an English teacher & worked as a sales manager in a Chinese company (selling marble from China abroad);
• got married;
• gave birth to a daughter;
• and opened my own business!
我已经在中国厦门生活了六年多,它已经成为我的第二故乡!这六年里,我
• 中文水平有所提高;
• 获得了国际关系硕士学位;
• 做了几年的英语老师,并在一家中国公司担任销售经理(向海外推销中国的大理石);
• 结婚了;
• 生下了一个女儿;
• 开创了自己的事业!
During my studies, I never had time for hobbies. That changed when I met my husband. Thanks to him, I got the opportunity to work less, relax, and do what I like.
学习期间,我从来没有时间做自己喜欢的事情。但我遇到我丈夫后,情况发生了改变。多亏了他,我才得以减轻工作负担,才有时间放松,做我喜欢的事情。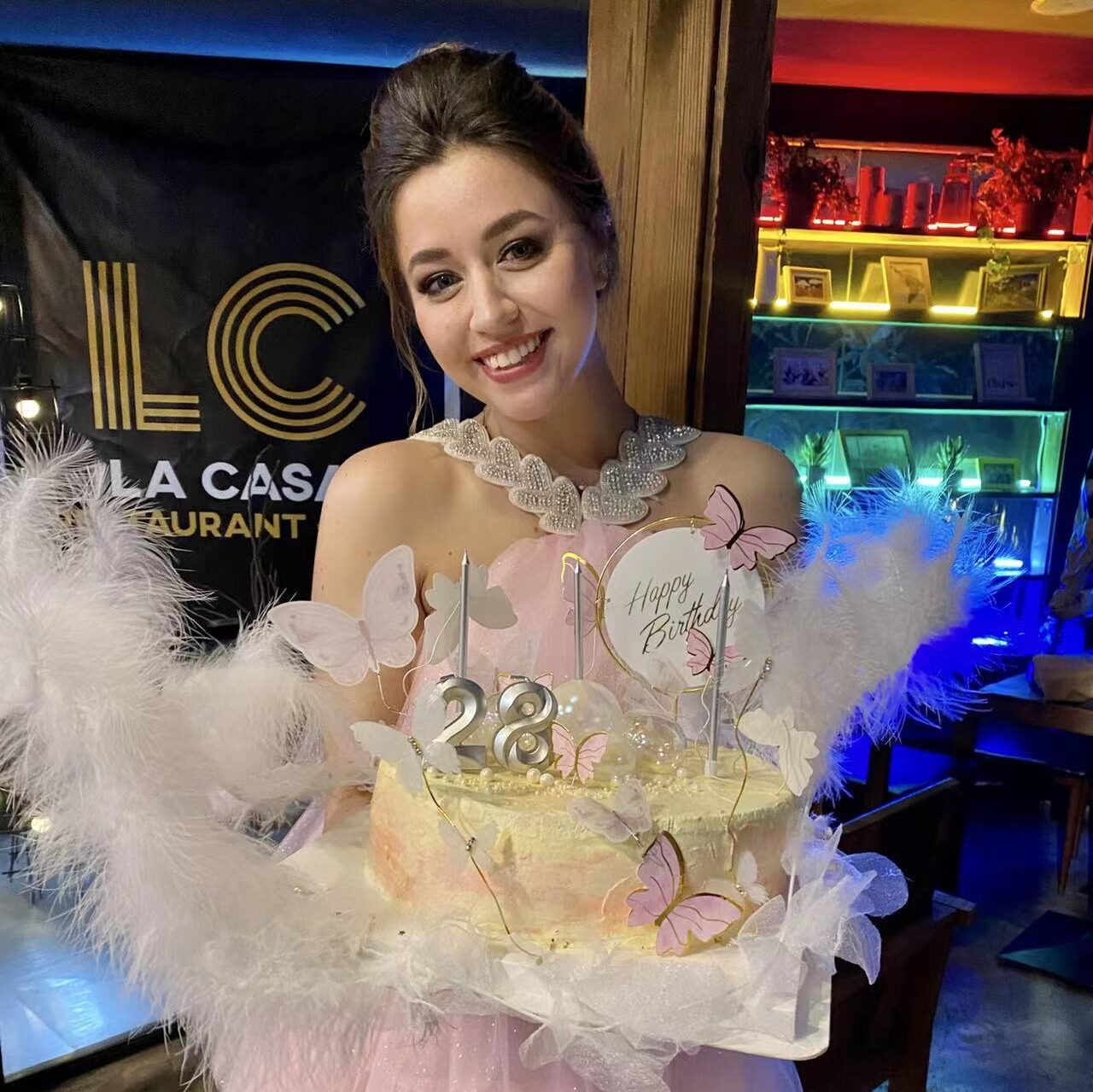 So how did I start?
那么,我是如何重拾爱好的呢?
I came across an advertisement about an online confectionery school on Instagram, and childhood memories came flooding back. Around that time, I also started to think about what my talents were, and I felt kind of talentless. It seemed to me that I was good at nothing. Looking back on it now, though, that seems absurd, because by that time I had achieved a lot: I was able to speak four languages and started to learn Spanish as the fifth; completed my master's degree in China and I was earning good money.
我在 Instagram 上看到一则关于在线甜点学校的广告,童年的记忆涌上心头。大概在那个时候,我开始思考我有什么样的才能,但我觉得自己有些无能。我似乎什么都不擅长。不过,现在回想起来,这评价似乎很荒谬,因为那时我已经取得了许多成就。我能讲四种语言,开始学习第五种语言——西班牙语。我在中国获得了硕士学位,赚得盆满钵满。
But in my heart I felt as if I had never found myself. So I decided to start seriously learning confectionery skills! I saw in it not only an interesting hobby, but also business potential.
但在我心里,我好像从未认清自我。因此,我决定开始认真学习制作甜点!这不仅是我的兴趣所在,我还看到了其中的商业价值。
Once, I organized a ladies Christmas event where I did a dessert tasting, and very quickly, people started asking me if I could make a birthday cake for them. Soon, most of the foreigners in Xiamen knew about my cakes, and 2 years later, I'm more successful than I ever would have imagined. I expanded very quickly, and now I have a team of almost 10 people. We bring joy not only to people in Xiamen, but also to people in other provinces and all over China! I now offer party balloons, flowers, desserts, an online grocery store, supplies for a coffee shop and even a cooking school!
有一次,我为女性同胞组织了一场圣诞活动,做了一道甜点给大家品尝。她们问我是否可以为她们做生日蛋糕。很快,厦门的大多数外国人都知道了我会制作蛋糕。2 年后,我的成功超乎想象。生意规模扩张得非常快,现在我有一个近 10 人的团队。我们不仅为厦门人民带来欢乐,也为中国各地的人们带来欢乐!现在我主要出售派对气球、鲜花、甜点,咖啡店的用品,开了一家网店,甚至开办烘焙学校!我的目标是让更多人参与进来。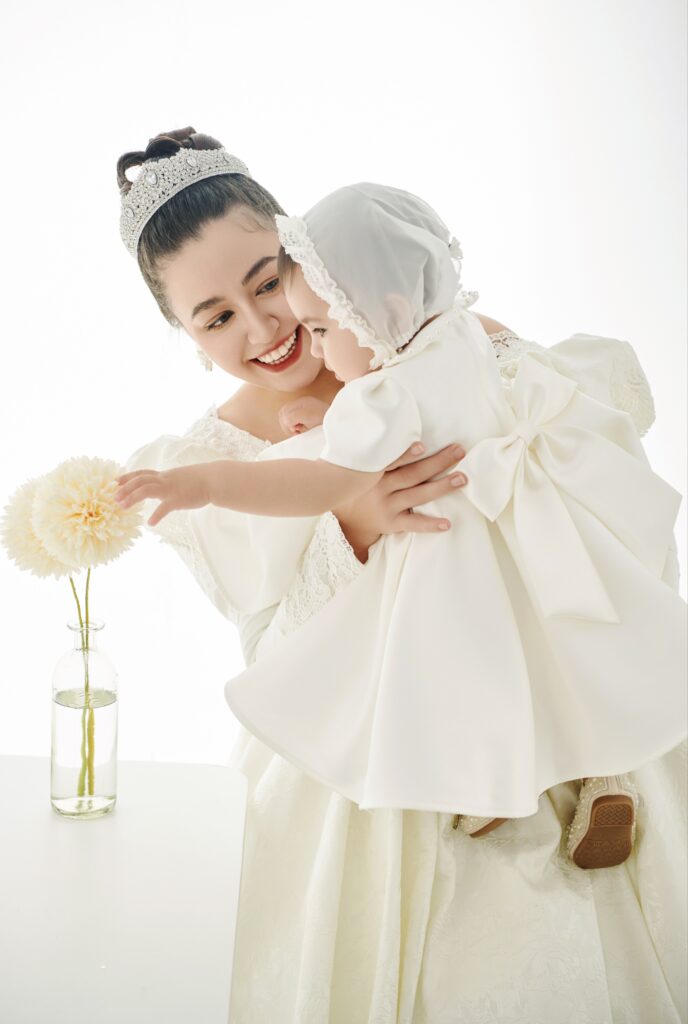 China was not in my original plan, but it is now where I live, where I started my own family and business, and where many opportunities have crossed my path. Xiamen, with its remarkable scenery and loving community, is now the place I call home.
起初中国并不在我的计划之中,但我如今却在这里生活,在这里成家立业,在这里邂逅许多机遇。厦门,拥有绝美的风景和充满爱的社区,是我的家。
Now, it's also a safe place for my mother. With the recent difficult times for every Ukrainian, she has finally found some peace here, with me and my family. I hope that one day my father and brother will also be able to come here, and that we will live our Xiamen life together! I know it will never make up for the losses of the war, but this city is definitely full of joy and beauty, comfort and opportunities!
现在,中国也是我母亲的庇护港。最近每个乌克兰人都遭遇了艰难困苦,我母亲终于在中国找到了一丝安宁。我希望有一天我父亲和弟弟也能来到这里,一起在厦门生活!我知道战争带来的创伤永远无法弥补,但这座美丽的城市绝对充满欢笑,带给我们宽慰和机遇!
---
点击下方链接查看更多精彩故事