故事36 | Natasa: A Jar of Memories
作者:Natasa Vujicic

翻译:潘泽彬

校对:Luz、Joanne、James
I was born in Serbia and brought up in Montenegro. That is where I met my husband, who moved from Germany to start working in the same company as me. After a few years living in Belgrade, we decided to move to Hangzhou. We spent four and a half years living in this magnificent city before moving again, this time to Mumbai.
我生在塞尔维亚,长在黑山,在那里遇到了我的丈夫。他从德国搬来,和我在同一家公司工作。在贝尔格莱德生活了几年后,我们决定搬到杭州。我们在这座大城市生活了四年半,然后再次搬家,来到孟买。
However, two months before we left China, on my 40th birthday, I realized I had something to say, and I needed to say it quickly. So at that very moment, I pulled out my laptop and started writing a book. As my family was putting on their shoes and getting ready to head out for my birthday celebration, I was still finishing the first chapter. It took me less than four weeks to finish the first draft. I named it "23 Reasons to Fall in Love with Hangzhou," because the first time we arrived in Hangzhou all those years ago, on the way from Putong Airport, the driver took highway exit 23 to enter Hangzhou. That turn marked the beginning of the best chapter of our lives. 
然而,我们离开中国的两个月前,准确地说是我 40 岁生日那天,我感觉有一肚子话需要吐露。所以那一刻,我掏出笔记本电脑,开始写书。家人们穿好鞋子,准备出门为我庆生时,我仍在写第一章。我花了不到四个星期就完成了第一稿,书名为"爱上杭州的 23 个理由",因为多年前我们第一次到达杭州时,司机从普陀机场出发,由 23 号高速出口进入杭州。那个转弯标志着我们生命中最美好的篇章由此开始。
So here is one of the reasons why we love Hangzhou so much.
这就是我们如此喜爱杭州的原因之一。
That first year when we moved to China, we spent seven days in Hainan for Golden Week. Right after coming back, even though it was still warm outside, we could feel autumn at the doorstep. There was something in the air that reminded me of furnaces burning wood, some sort of smoky smell that seemed to announce that soon we would all be wearing sweaters and gloves. The pollution level started rising, and on days without rain we could smell it. It smelled faintly like burnt rubber and acid. But all around Hangzhou, all the time, wherever we went, we could smell something else as well. It smelled familiar and exotic at the same time.
我们搬到中国的第一年,在海南度过了七天的黄金周。回来后,尽管外面仍然很暖和,但我们在门口就能感觉到萧瑟秋风。空气中的气味好像燃烧的木材,烟熏的味道似乎宣告我们很快就会穿上毛衣,戴上手套。污染指数开始上升,天气晴朗的时候,我们可以闻到一股气味,隐约像烧焦的橡胶,略带一股酸味。在杭州,无论何时,无论何地,我们都能闻到另一种味道,熟悉又带有异域风情。
For days I was trying to discover the source of that delicate, yet intense smell, until I ran into a neighbor who had lived in China for years. Through laughter she said it was Osmanthus flower, and it was now in full bloom. I had never been that interested in flowers, but the fact that I hadn't even heard of this one shocked me. What kind of flower can make the whole city smell like a perfume shop? Not to mention this was a city, with concrete, traffic, construction sites and all. 
几天来,我一直试图寻找这种微妙而强烈的气味来源。我遇到了一位在中国生活了多年的邻居,她笑着告诉我说那是桂花,现在正是桂花盛开的季节。我对花并不感兴趣,但令我意外的是,我竟然从来没听说过这种花。让这座充满混凝土、汽车、工地的城市,闻起来像个香水店,什么样的花才有这样的威力?
The smell stayed for weeks, and it made autumn my favorite part of the year. All around the city you could find Osmanthus-flavored coffee, snacks, and sweets. My favorite until this day (even though I tried many) was a very traditional lotus root with sticky rice covered in Osmanthus flowers.  
这种香味持续了几个星期,让秋天成为我一年中最喜欢的季节。城市的各个角落,你可以找到桂花味的咖啡、小吃和糖果。我尝过许多桂花做的美食,最爱的还是一种非常传统的糯米莲藕,上面洒满桂花。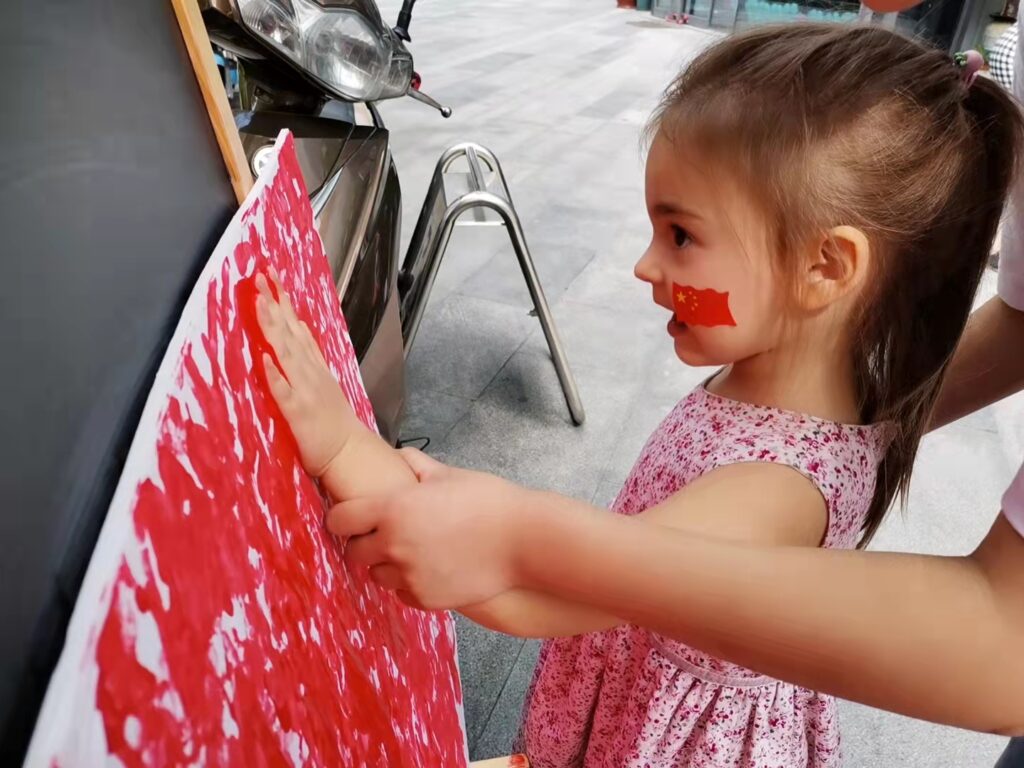 Starting with the New Year, we were already counting the days until October and planning routes we would walk. So, following that very plan made in the beginning of the year, we decided to spend one October weekend in a small guesthouse in Manjuelong Village (满觉陇村). At checkout, we were handed two jars of dried Osmanthus as a gift. I planned to search Xiaohongshu (小红书) for recipes and bake something with Osmanthus flower, but after unpacking my bags, "assisted" by my three-year-old and one-year-old daughters, only one jar survived. I opened it and felt my throat tightening. I was quite literally on the verge of tears. It smelled sweet like apricot jam, announcing the cold weather and evenings spent at home. It brought back countless memories of our autumns in China, pierced with memories of home.
新年伊始,我们已经开始制定 10 月之前的旅行路线了。按照计划,我们决定在满觉陇村的一个小旅店里度过十月的一个周末。退房时,老板送我们两罐干桂花作为礼物。我打算用桂花烤些甜点,于是在"小红书"上寻找制作方法。我三岁和一岁的女儿"帮助"我拉开背包,拜她们所赐,只有一罐幸存。打开它时,我感到喉咙发紧。我真的快哭了。桂花闻起来像杏子酱一样甜,思绪涌上心头,让我想起了寒冷的天气和在家里度过的每个夜晚,勾起了我们对中国秋天的无数回忆,戳中了我们内心深处对家的记忆。
By then we already knew we may not be staying for another year. We were missing our families and home country, but at the same time it seemed unreal, even impossible to leave China. I honestly wondered how we were going to survive this goodbye. I felt homesick, for both of my home countries and for China at the same time, even before we left.
那时我们已经知道,我们在中国的时光剩下不到一年了。我们想念家人和故乡,但是离开中国似乎是不切实际的,甚至是不可能的。老实说,我想知道我们能不能经受得起这次离别。离开之前,我就想家了,既想念我的故乡,又想念中国。
In the end I never made any of the dishes with Osmanthus flower, and I decided not to use it. Of course I could always buy another jar, but it would be a different jar, bought, not gifted. It may not contain the essence of that weekend in the mountains, the long-into-the-night conversations with our friends and giggles of our kids while planning another trek to the ice cream shop.
最后我没有尝试用桂花做菜,决定留着这罐桂花。当然,我可以再买一罐,但意义就不同了,是买来的,不是赠予的。这罐桂花包含着那个在山上度过的周末,包含着与朋友的促膝长谈,包含着孩子在冰淇淋店前的笑声。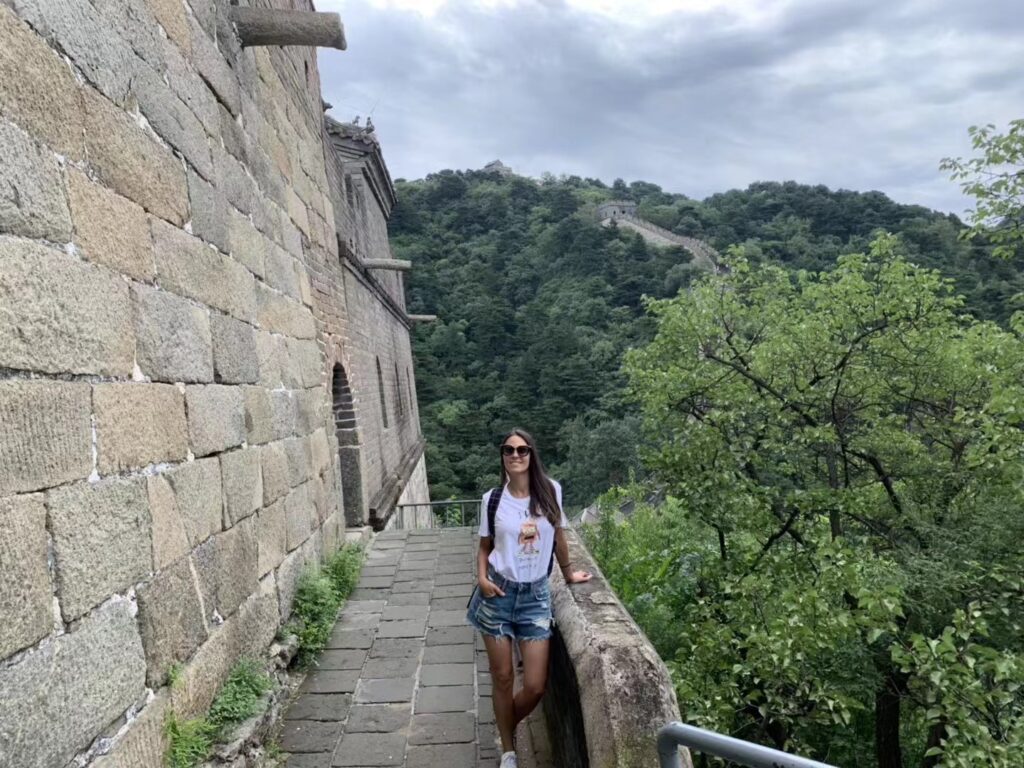 If you visit Hangzhou in October you will understand. During the Osmanthus season, all around the Manjuelong Road (满觉陇路), Zhongshan North Road (中山北路), or really anywhere around the Shangcheng (上城), Xiacheng (下城), and West Lake (西湖) districts, the smell is so unique and overwhelming that it will paint your every moment. Whenever you smell Osmanthus in the future you will remember Hangzhou. That is why I keep my little jar safely locked away from everyone.
如果你 10 月来杭州游玩,你会发现,满觉陇路、中山北路一带,或者上城一带的任何地方,都有桂花盛开。在上城、下城和西湖一带,桂花的香味是如此独特,令人难以抗拒,让每一刻都变得香甜。今后每当你闻到桂花香,你就会想起杭州,所以我把这罐桂花锁起来,不让别人知道。
It was as quick as snapping your fingers, and despite the unfinished contract, our time in China has actually come to an end. What was left was longing for this magnificent city that gently embraced us at every corner. When we tried to explain the situations we got into to friends and family back home, it was impossible. The words were scarce and inadequate to express all our feelings, and truly describe images and sounds. 
弹指一挥间,虽然有合同还未完成,但我们的中国之旅实际上已经结束了。我们留下的是对这座大城市的渴望,杭州的每个角落都给予我们温柔的怀抱。我们想向朋友和家人讲述在中国的一切,但这是不可能的。千言万语都不足以表达我们的感受,也无法真正描述我们的所见所闻。
It was only when we met someone, quite often a complete stranger, who too lived in China, that we could be understood. This understanding felt complete and intimate because we had both once felt the same deep, unexpected love towards this country. We will forever be grateful.
如果我们哪天遇到了一个陌生人,也在中国生活过,才能理解我们的感受。这种感受全面而亲切,因为我们都曾经对这个国家产生过同样深刻、意外的爱。我们将永远心存感激。
---
点击下方链接查看更多精彩故事